Democracy must defy terror, says UKIP's Neil Hamilton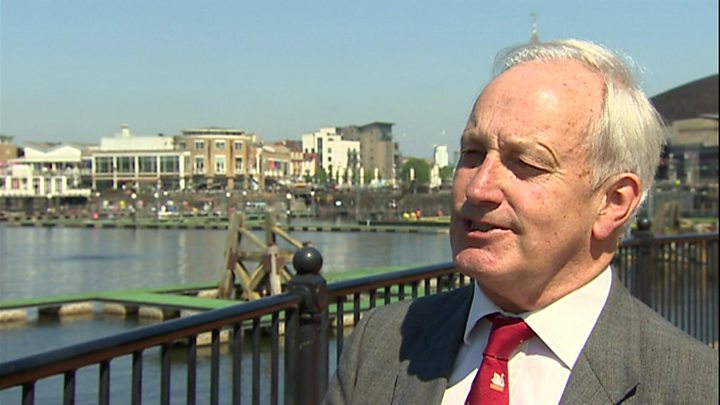 Terrorism "must be defied by the democratic process continuing", UKIP's assembly group leader has said.
Launching the party's Welsh manifesto, Neil Hamilton defended UKIP's decision to resume campaigning after Monday's terrorist attack in Manchester.
"If we decide to cower away...then I think the terrorists would regard that as a victory", he said.
The general election manifesto includes plans to cap government costs and give parents more rights over schools.
Launched in Cardiff Bay on Thursday, with just two weeks to go until polling day on 8 June, the documents says UKIP would also scrap police and crime commissioners and give mental health services "parity" with physical treatment.
Other political parties are due to re-start their campaigns over the next few days.
Responding to a question about the party's low opinion poll ratings, the AM for Mid and West Wales who is also a parliamentary candidate, said it was "difficult" for UKIP to impress their domestic policies on the public given their association with campaigning for the UK to leave the EU.
He called the election campaign a "building block" in explaining what UKIP had to offer post-Brexit.
Earlier, Mr Hamilton said the party's manifesto, entitled Wales Into the World, was a "vigorous document" with Wales "at its heart".
"From taking those earning minimum wage out of income tax altogether to putting mental health on an equal footing with physical health; our manifesto is a vigorous document filled with domestic policies with Wales at its heart," he said.
Pledges in the manifesto include:
Limiting the total cost of running the Welsh Government, the assembly and local councils to 2% of the value of Wales' economy using a Fiscal Responsibility Act
Allowing parent governors to request an Estyn inspection of their school
Ensuring all parents have the right to send their children to a local school which teaches through the medium of English or Welsh
Giving mental health services parity with physical health services - reflected in staffing and budget allocations
Scrapping police and crime commissioners and creating a national commissioner responsible to the home secretary but accountable to a new cross-party Policing Committee in the Welsh Assembly
Supporting the Swansea Bay tidal lagoon
Revising the Barnett formula, used to distribute funds from Westminster to the Welsh Government
'Boudicca'
Meanwhile Mr Hamilton accused the prime minister of being a "bargain basement Boudicca" who is pretending to fight to leave the EU when she does not believe in the cause.
In an interview on BBC Wales Today, he also claimed that the Conservative Party's recent changes to social care policy for England was evidence that the prime minister could not be trusted to bring down immigration further.
Mr Hamilton spoke as net migration to the UK was estimated to have been 248,000 in 2016, a fall of 84,000 on the previous year.
He said: "She did not want the referendum and she was a Remainer in the referendum campaign. Her heart is not in this.
"She is looking at these negotiations purely as a technocratic exercise."
The party performed badly in local elections earlier this month, failing to win any Welsh seats.