Rhodri Morgan: Final farewell at service of committal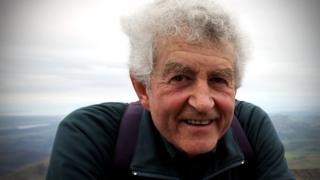 Family and friends of the former first minister Rhodri Morgan have paid their final respects at a service of committal in Cardiff.
Mr Morgan, who served nine years at the helm of Welsh Government from 2000 to 2009, died in May at the age of 77.
Hundreds of people attended a celebration of his life at the Senedd in Cardiff Bay on Wednesday.
Thursday's service took place at the Wenallt chapel, Thornhill crematorium in the city.