Election 2017: May wants farm trade with EU to continue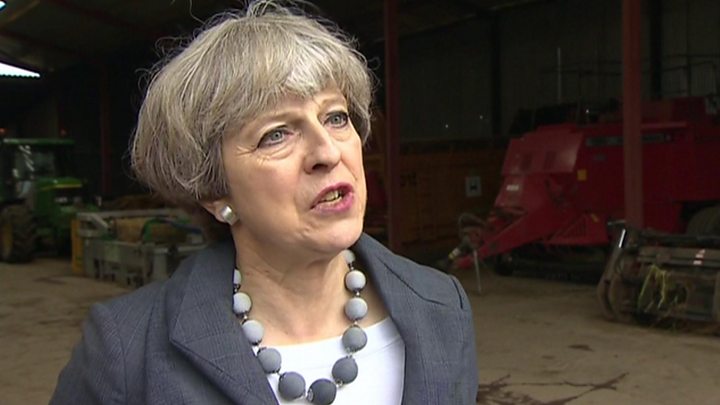 The prime minister has said she wants Welsh farmers to continue exporting their goods to the EU after Brexit.
Theresa May's team wanted to focus the last 48 hours of election campaigning on who would best lead UK Brexit talks.
Visiting a farm in the Labour-held Clwyd South constituency, she was asked whether leaving the European single market would damage Welsh farming.
Later, Liberal Democrat leader Tim Farron was in Montgomeryshire and Plaid Cymru highlighted GP shortages.
Labour and UKIP were conducting local campaigning.
Negotiations over Britain's exit from the EU begin later this month.
On her third trip to Wales in the run-up to the general election, Mrs May said: "Being a member of the single market means accepting free movement, it means accepting the jurisdiction of the European Court of Justice - that is exactly what people voted against when they voted for the UK to leave the European Union.
"What we need to do is ensure that we get the right trade deal so that farmers can continue to export their produce to the European Union but also so we can open up avenues to trade around the rest of the world for farmers as well.
"Getting that comprehensive free trade deal is clearly in my plan for those Brexit negotiations; negotiations start in 11 days after polling day, less than a fortnight from now.
"We need a government that's ready to start those negotiations that have a clear plan and that's me and the Conservative team."
Her earlier visits to Bridgend and Wrexham were both in Welsh constituencies the Conservatives are hoping to take from Labour.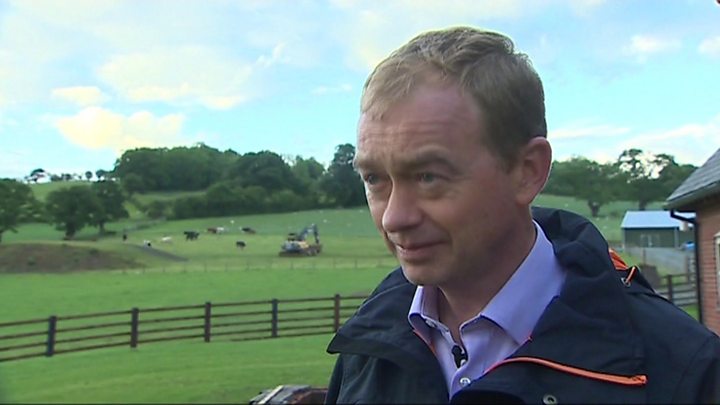 Mr Farron visited a beef and sheep farm as the Lib Dems continued to raise concerns about the impact of Brexit on farming.
Plaid Cymru visited a doctor's surgery in Cardiff to highlight GP shortages - an issue where responsibility lies with the Welsh Government.
Sorry, your browser cannot display this content.