Tory Andrew RT Davies denies spat with Alun Cairns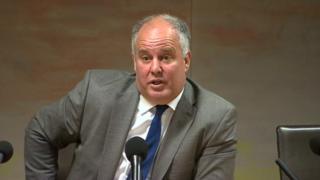 The leader of the Welsh Conservatives has denied that claiming the Welsh Secretary was unwilling to take part in a BBC debate amounted to a "spat".
A row broke out between Andrew RT Davies and Alun Cairns earlier in the election campaign after neither took part in the BBC Wales debate.
The two made rival claims as to why.
But at a news conference on Tuesday Mr Davies said Mr Cairns has been and will be an exceptional secretary of state for Wales.
Asked about a Tory source suggesting potential moves against him, Mr Davies said: "Does this look like the face of a worried man?"
Clwyd West AM Darren Millar had taken the helm for the Conservatives at the BBC Wales Leaders' Debate, which was held last Tuesday.
"We didn't have a spat at all," Mr Davies said.
"Alun and myself have worked tirelessly over the years together and I look forward to continue working with Alun.
"Alun has been and will be an exceptional secretary of state for Wales."
Mr Davies denied an earlier suggestion by a Tory source that he was bored with his job as Welsh Conservative leader.
Referring to himself, he said: "This is a man who is working tirelessly to ensure that Conservatives succeed on Thursday, supporting our candidates.
"There are many keyboard warriors there in all political parties.
"What amazes me is the amount of currency the political media give to those unnamed sources."
Mr Davies said the prime minister was on record as giving him support.
"And I'm not looking for support to be honest with you," he said, "because I'm not in that position."
Last week Mr Cairns told BBC Radio Wales that Mr Davies was "always down to do" the BBC debate, but that Mr Davies "couldn't do it for personal reasons".
A spokesman for Mr Davies then released a statement claiming Mr Cairns had been "unwilling" to do the debate himself.
In a later BBC Radio Wales interview after the row broke out, Mr Cairns backed Mr Davies as leader of the Welsh Conservatives "without a question".