General election difficult for Plaid says Rhun ap Iorwerth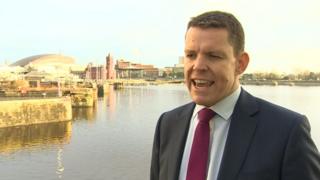 A senior Plaid Cymru AM has asked whether the party could have been more honest about the challenges it faced during the general election campaign.
Rhun ap Iorwerth said Plaid found the campaign "difficult" and may not have been "sensitive" to the Labour surge.
Plaid gained Ceredigion but came third in its target seats of Ynys Mon, Llanelli and Caerphilly.
The AM said he was "relaxed" that Plaid had not won Ynys Mon, the seat he represents in the Senedd.
Mr ap Iorwerth said there were seats in play for the party earlier in the campaign that became more challenging as it went on.
Plaid Cymru had told journalists it was targeting six seats on top of the three it held, including Blaenau Gwent and Rhondda where it came ultimately came second.
The party increased its haul from three seats to four despite its overall vote share falling slightly by 1.7% to 10.4%.
Plaid came third in Ynys Mon despite former leader Ieuan Wyn Jones - previously the island's MP from 1987 to 2001 - being the candidate.
Mr ap Iorwerth said Plaid Cymru had taken a "step forward" in the number of seats, but added: "The honesty is to face the fact this was a difficult election and acknowledge those factors that were within our control.
"I'm very relaxed about the fact we lost Ynys Mon, because the idea that someone could have taken the seat from Labour in an election like this is unrealistic as it turned out."
He said he felt it was a case of "two elections" with a swing towards Labour in the last three weeks of the campaign.
"Could there have been more honesty, publicly about what had changed ... and the fact that some of the seats that genuinely had been in play prior to three weeks ago had now become far more challenging, perhaps?
"Were we sensitive enough to change our game-plan as the election changed? Again, perhaps not."
Mr ap Iorwerth said as soon as things started to go wrong with the Conservative manifesto there was "a house of cards effect".
"With no real change in Labour strategy Theresa May allowed Jeremy Corbyn to get a foothold in the election. We know what happened then as that snowballed in the last three weeks.
"We could sense it very quickly on the doorstep."
The AM said he unequivocally supported Leanne Wood's leadership of the party.
"Leanne has had a good election in some measures and Plaid Cymru has faced a challenge in a way we haven't faced for 40, 50 years in other ways," he said.
On the question of her leadership, he said: "There's no mention of that within Plaid Cymru."