Conwy council leader Gareth Jones leaves Plaid Cymru group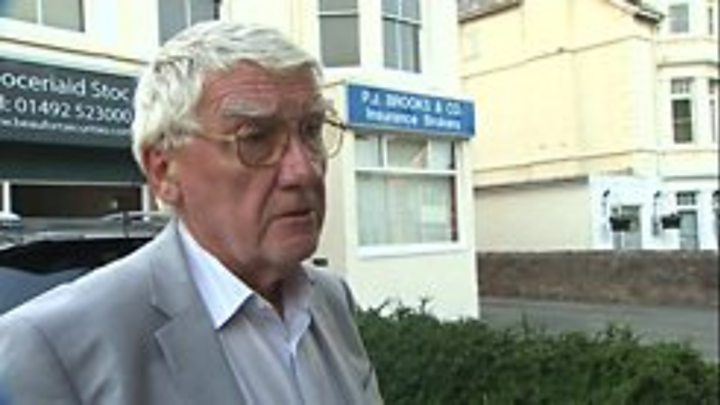 The leader of Conwy council has left the Plaid Cymru group.
Gareth Jones said he would sit as an independent following a meeting of Plaid's local branch committee, as there was "no future" for him as leader and a Plaid member.
Mr Jones's election sparked a row in the party after he named a cabinet which included Conservatives.
Plaid AM Simon Thomas said he was "not surprised", but added it was a "great pity" Mr Jones had left the party.
Mr Jones said: "The only way out as I can see, the only option I've got is to become an independent leader."
He will now have to run a minority administration of independents and Conservatives, with an informal "confidence and supply" agreement with the Liberal Democrats.
His decision to form a cabinet with Plaid, Tory and independent councillors was rejected by the party's national executive committee on Friday.
Despite being leader of the council, the former Plaid Cymru AM is not the party's group leader on Conwy council - that role is fulfilled by Wyn Jones.
At the meeting where Mr Jones was selected by secret ballot to be leader of the council in May, his nomination was proposed by an independent councillor and seconded by a Conservative, according to draft council minutes.
Mr Thomas said the Plaid group on the local authority had not wanted him to take the post, saying there were "discipline consequences" for Mr Jones.
He said: "I am not completely surprised [Mr Jones has left the party]. He could not be a Plaid Cymru councillor and be in coalition with the Conservatives so this is an inevitable consequence of his decision.
"It is a great pity - he has been a very faithful Plaid member over many years and I hope in time the situation can resolve itself."
The cabinet is currently made up of two Plaid Cymru councillors - including Mr Jones - five Conservatives and one independent. Labour declined an invitation to join.
There had been two other Plaid members in the original cabinet but they have since resigned.
Meanwhile, Plaid Cymru councillors in neighbouring Denbighshire have voted unanimously against accepting roles alongside Conservatives in a cabinet led by independent councillor Huw Evans.
It follows a meeting on Monday with Plaid Cymru leader Leanne Wood, who had earlier met her party's councillors in Conwy.