Compulsory voting 'the right way to go', says Neath AM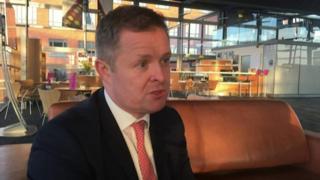 Compulsory voting should be considered in future Welsh Assembly elections, a Labour AM has said.
Jeremy Miles, AM for Neath, said it was "the right way to go" in order to boost turnout.
First Minister Carwyn Jones said the Welsh Government was not in favour of compulsory voting, adding it could be a "cop-out" for politicians.
But BBC Wales understands that several cabinet secretaries are personally in favour of the move.
None of Wales' political parties, officially, support compulsory voting.
The National Assembly for Wales will be responsible for its own electoral arrangements in the future following the Wales Act 2017.
Eleven countries enforce participation in elections - including Australia, which issues fines - and a dozen more have some kind of mandatory voting legislation that is not enforced.
"I'm personally persuaded that it's the right way to go," Mr Miles told Newyddion 9.
"But I'm very conscious of the fact that there has not been a very wide debate in Wales or in the assembly about that."
He added: "I think we should have that kind of debate. We're looking at the question of votes at 16, the voting system, the number of AMs and all sort of other issues which are pretty fundamental to our democratic life in Wales."
The turnout in the last assembly election in 2016 was 45.3% - the lowest since devolution was 38.2% in 2003.
Mr Jones said: "We are not in favour of compulsory voting. As a government, of course, we've taken a position that in assembly elections we want to see 16 to 18-year-olds voting but we're not in favour of compulsory voting."
He added: "I have to say I sometimes consider compulsory voting to be a form of cop-out for politicians. It's all our responsibility, collectively, to increase turnout."