MP Davies stands again to chair Welsh Affairs Committee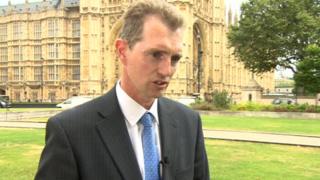 Welsh Conservative MP David Davies is standing for re-election as chair of Westminster's main forum on Wales - but may have to quit next year.
He is hoping to continue at the head of the select committee on Welsh affairs but a parliamentary rule currently limits how long a chair may serve.
Chairs are only allowed to stay in post for two parliaments or eight years, whichever is the longer.
Monmouth MP Mr Davies was first elected chair of the committee in 2010.
"My application is in," he said. "I very much hope I will be continuing. I have the support of Welsh MPs from all parties."
The MP said he did not know if he would have to step down after a year.
"There is some discussion about all of this, over the rules which date back to the days when select committee chairs were appointed by the whips to do their bidding," he said.
He suggested the rules might change now select committee members and chairs were chosen by a vote of MPs.
Mr Davies said he hoped the select committee would continue to look at the impact of Brexit on Wales, an inquiry that was halted by the calling of the general election.
He said he also wanted the committee to look again at the issue of Severn Bridge tolls, with the government now committed to scrapping them.