Tighter Cabinet advice to avoid conflicts of interest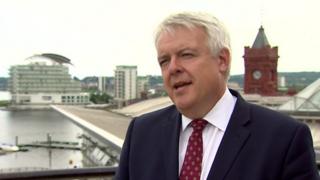 Carwyn Jones is tightening advice on how ministers take decisions that could benefit their constituents.
Ex-economy minister Edwina Hart was criticised for funding a firm just outside her Gower constituency without consulting the first minister.
Kancoat received £3.4m of public money despite civil servants warning it had a "weak" business plan and was high risk.
At the time, Mr Jones denied Mrs Hart had broken the ministerial code, because the firm was not in Gower.
But now he has told his cabinet they should consult him if a decision taken on a matter outside their constituency could be of "significant benefit" to their constituents.
Kancoat, a steel-coating company, was based in Waunarlwydd, less than half a mile from the Gower boundary.
In 2016, Sir Alistair Graham, who chaired the UK's Committee on Standards in Public Life from 2004 to 2007, told BBC Wales he believed possible jobs for Mrs Hart's constituents led to a potential conflict of interest when she backed the firm.
The Conservatives later claimed Mrs Hart had broken the ministerial code by approving the funding, a charge rejected by the Welsh Government.
Paragraph 4.4 of the Welsh Government's ministerial code, which sets out standards for their conduct, states: "Where ministers have to take decisions on their own portfolios which might have a particular impact on their own constituencies or electoral regions, they must take particular care to avoid any possible conflict of interest.
"Where ministers are uncertain about whether a conflict arises between their ministerial and constituency/regional responsibilities they should consult the first minister, for a decision as to how the business is to be handled."
A Freedom of Information request by the Conservatives found there was no record of any meeting between Mrs Hart and the first minister to discuss the granting of financial support to Kancoat.
Mr Jones has previously said Mrs Hart would not have needed to consult him about offering financial assistance to Kancoat "because the rule is you do not take a decision as a minister on something that has a direct effect on your own constituency within your own constituency".
Following its inquiry into Kancoat, the assembly's public accounts committee (PAC) recommended that "the first minister ensures the Ministerial Code requires the consideration of perceived conflict of interests and that the outcome of such consideration is formally fully documented."
In a letter to PAC chair Nick Ramsay, published on Wednesday, Mr Jones said: "The Ministerial Code already requires cabinet secretaries and ministers to take particular care over decisions which could give rise to the possibility of a conflict of interest arising from their portfolio responsibilities and their constituency interests.
"Cabinet secretaries and ministers are personally responsible for their actions and behaviour and must justify their conduct to the assembly if necessary.
'Judge and jury'
The letter continues: "If they consider there is the possibility of a conflict of interest, advice is sought from my office and where such referrals are made, they are documented, so in this regard the recommendation is already satisfied.
"I consider the term possibility to be broad enough to capture matters which, in the opinion of a cabinet secretary, might give rise to a perception of a conflict of interest.
"I will be writing to cabinet secretaries and ministers asking that they are mindful of decisions taken on matters outside their constituencies which might be of incidental benefit to their constituents and if the benefit is considered significant enough that it should be referred to my office for advice on handling."
But Welsh Conservative leader Andrew RT Davies said the first minister should not "act as both judge and jury in these matters".
"It's high time for the code to be supervised independent of government to ensure decisions are made in the best interests of Wales - and not the particular needs of any one cabinet minister," Mr Davies said.