David Davies returned unopposed as Welsh Affairs chair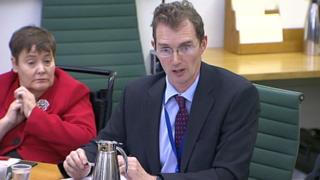 Monmouth MP David Davies has been re-elected unopposed as chairman of the Commons Welsh Affairs committee.
The first Tory to take the role in June 2010, Labour supported his re-election.
Mr Davies told BBC Wales that his main priority was the Welsh economy, and seeing a "Brexit that works for Wales and our economy".
He said it was "crucial" for businesses to be given a timetable for scrapping the Severn tolls, which the Tories promised during the election campaign.
On Brexit, Mr Davies said: "There are many strands to that which impact on businesses whether urban or rural.
"A rural example is on lamb exports where our farmers do face a potential challenge if there is no access to the single market."
Mr Davies added: "I don't have the final say on these things and it will be up to the committee to decide but I suspect that issues like Brexit, transport and tidal lagoons will be our direction of travel."
Under current rules Mr Davies will have to stand down in 2018 after serving eight years in the post, but he has suggested the rules might change as select committee chairs are now chosen by MPs rather than party whips.
Fellow Tory MP Glyn Davies has said he will stand for the post in 2018.
Three Welsh Labour MPs will find out on Wednesday if their bids to chair select committees are successful.
Wrexham's Ian Lucas and Albert Owen from Ynys Mon are among four Labour MPs battling it out to chair the Business, Energy and Industrial Strategy committee.
Swansea West MP Geraint Davies is one of five contenders to chair the Transport committee.