Schools need to improve money lessons, says Estyn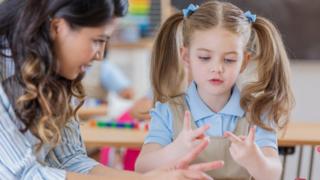 Schools should provide more opportunities for pupils to learn how to manage money properly, education watchdog Estyn has said.
It said while the majority of schools in Wales assess numeracy skills, very few focus specifically on financial skills.
A report said teachers should be given more training and support.
The Welsh Government said financial education was an integral part of lessons at schools.
Estyn said a minority of primary schools and a majority of secondary schools do not provide pupils with enough opportunities to develop and apply their skills with money.
In the best schools, teachers plan a variety of activities across the curriculum, such as primary school pupils attending weekly savings clubs where they bank and keep track of their savings.
'Schools' responsibility'
Estyn chief inspector Meilyr Rowlands said another idea would be for geography pupils to compare different websites to plan a holiday and learn about budgeting and value for money.
"Schools have a responsibility to ensure that pupils develop the knowledge, skills and attitudes to be able to manage money confidently," he said.
"To do this, they should provide enough opportunities for pupils to develop and apply their financial skills across the curriculum."
The report recommended schools should monitor and evaluate the quality of teaching of financial skills, while staff should be given appropriate training.
It also said ministers should further promote guidance on effective financial education and include a database of useful resources to support teachers.
The Welsh Government said the report would be used by Pioneer schools, which have been selected to help build a framework for the new curriculum being created as part of its education reforms.
"Estyn's findings will support their work and we expect them to be supported by key bodies such as the Money Advice Service and Credit Unions to enhance provision for financial education within the new curriculum," a spokesman added.