Newspaper editor predicts end for press as 'substantial' part of media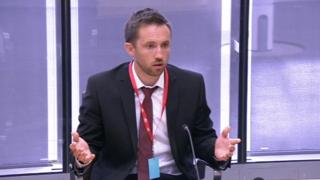 Newspapers will cease to be a "substantial part" of the media in Wales one day, a regional press boss has told assembly members.
Paul Rowland, editor-in-chief of Trinity Mirror South Wales, hoped it was "a long way off" but aimed to boost the firm's Wales Online website.
He also said there was a lack of public understanding of the difference between Westminster and assembly politics.
But he denied his company was moving away from covering serious news.
As well as being responsible for the Western Mail, South Wales Echo and South Wales Evening Post newspapers, Mr Rowland also oversees the Wales Online website, which he called a "big success".
He told the assembly's culture committee: "Our print products at the moment are an incredibly important part of our business. I want them to be a part of our business as long as possible.
"Hopefully the day is a long way off where newspapers aren't a substantial part of the media in Wales but that day, when you look at the trends, you know, you'd have to say, at some point it will come.
Mr Rowland said his company's business model was to strengthen the website "so that we can continue to be a publisher of importance when that day comes".
Questioned about Wales Online's lighter content, he said: "Newspapers have always run stuff that isn't entirely serious. I think there's absolutely a place for that.
"If we think of all our media consumption in this room, there'll be times when we read very serious stories and there'll be times when we read things that entertain.
"We have invested significantly in politics coverage, in making sure those things are covered properly, in making sure they're covered in a way that's relevant to a digital audience.
"It's very easy to pick one or two articles and to say 'you don't do anything serious because you did this or you did that'.
"But that is to take such a narrow view of our content output that it's effectively meaningless," he added.