Arriva Trains Wales hails £2.9m rail carriage service boost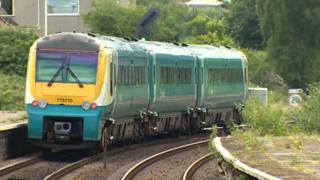 More trains have been promised by the company running the Wales rail network under a £2.9m investment.
Arriva Trains Wales said the extra five four-carriage trains in 2018 would increase the number of available carriages by 7%.
Welsh Affairs Committee MPs reported people were tired of "old and cramped" trains provided by the company.
Arriva is waiting to hear if it has beaten off three competitors for the re-advertised Wales rail franchise.
The Welsh Government is providing £1.9m towards the cost of the extra rolling stock, which will be available to whichever company runs the network from October 2018.
While they will be partly used to fill in for trains being refurbished to meet new disability requirements, they have more seats than existing carriages.
Economy Secretary Ken Skates said: "I've been absolutely clear that the next franchise, the Welsh Government's first, must have the passenger at its heart.
"I'm delighted that we've been able to secure these trains and hope to see them play a part in boosting Wales' rail service for years to come."
The critical Welsh Affairs Committee report said many problems were due to "a huge failure" to allow for higher passenger growth when the current 15-year franchise was awarded by the now defunct Strategic Rail Authority in 2003.
Simon Hughes, fleet director for Arriva Trains Wales, said: "These additional trains will be a massive boost for our customers who have been calling for extra capacity for a long time.
"We are delighted to be investing alongside the Welsh Government to secure this additional rolling stock within our current franchise period."
Mr Hughes said Arriva had already been able to boost the number of seats available on commuter routes serving Cardiff as a result of infrastructure investment by Network Rail.