Chwarae Teg calls for workplace gender equality in Wales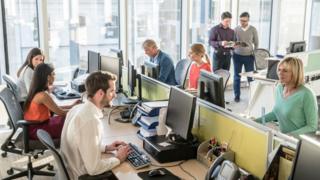 Breaking down barriers women face in work is essential for tackling poverty and building a strong Welsh economy, a gender equality charity has said.
Cerys Furlong, chief executive of Chwarae Teg, said workplace gender equality was "an economic imperative".
She spoke ahead of giving evidence to the assembly's equalities committee on Wednesday as part of its inquiry into poverty in Wales.
The Welsh Government said it was "committed" to gender equality.
Ms Furlong said bridging the gender pay gap and enabling more women to work would increase GDP [gross domestic product] and improve productivity.
She said a lack of affordable childcare, inflexible working hours and poor public transport could lead to women either not working or forced into lower paid jobs that are less secure.
"The economy and the workforce as a whole will benefit from a more equal workforce, this should not just be seen as a 'woman's issue' but as everybody's business," she said.
She added: "For too long, action to address inequalities in workplaces has been seen as a 'nice to have' but if we are to build a truly strong and resilient economy here in Wales then gender equality is an imperative."
Ms Furlong said Chwarae Teg was working with employers across Wales to help them implement "modern working practices such as flexible, home and results based working".
As well as these businesses being able to recruit and retain more female workers, they found their productivity levels had also increased, she added.
Reducing the gap
A Welsh Government spokeswoman said all public sector employers in Wales are required to report annually on gender pay gaps.
"We have invested £10m of EU and Welsh Government funds in the Agile Nation 2 project, delivered by Chwarae Teg, which will support some 2,200 women and work with 500 employers across Wales to promote female career advancement and help reduce the gender pay gap," the spokeswoman said.
"The project is focusing on nine key sectors of the Welsh economy, including advanced manufacturing, life sciences and health, and energy."
She added that the Welsh Government was going to pilot a government-funded early education and childcare package for working parents in seven areas from September.
This is set to be followed by a wider roll out throughout Wales.