Welsh trade union bill to partially overturn UK restrictions passed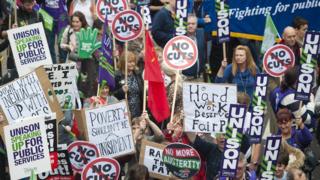 A bill to partially reverse a UK law which restricts strike ballots and other trade union activities has been passed by the Welsh Assembly.
The Trade Union (Wales) Bill rules the measures no longer apply to devolved services such as health and education.
Local Government Secretary Mark Drakeford said UK ministers had been warned their "dangerous and divisive" law "interfered" with devolved policy.
The UK Government insisted that industrial relations were not devolved.
Measures overturned by the bill for devolved public services in Wales include a 40% support threshold for strike ballots, and restrictions affecting time off work for union activities and the taking of union subscriptions directly from pay packets.
After assembly members voted to pass the bill on Tuesday, Mr Drakeford hailed it as "a very significant day" for public services and devolution.
'Confrontational'
"We should never have been in a position where we had to introduce a bill to reverse parts of a UK act," he said.
"Time and again we warned the UK Government that this damaging and divisive legislation interfered with devolved policy and the powers held by the National Assembly for Wales.
"We always said that the Trade Union Act was unnecessary and would lead to more confrontational relationships between employers and workers, undermining rather than supporting public services and the economy."
Wales TUC General Secretary Martin Mansfield said the Welsh Government had delivered on a promise to "protect our devolved services from the Westminster government's anti-union attack".
"The UK Government must now fully respect the democratic will of the people of Wales and the decision made by our National Assembly to pass this Bill," he added.
"Any underhanded attempts to interfere in how our devolved public services are run in Wales would be undemocratic and unconstitutional."
'Re-balancing' interests
Responding to the passing of the bill, the UK Government said its "intention remains unchanged" in that "the new safeguards in the Trade Union Act should apply across Great Britain".
"The Wales Act clarifies that industrial relations are a reserved matter, and the UK Government will act at the next available opportunity, following commencement of that Act, to ensure the legislation protects our public services," a spokeswoman said.
"The lives of working people in this country have for too long been disrupted by unregulated strike action and the measures in the Trade Union Act are tackling this.
"The Trade Union Act is about re-balancing the interests of the unions and those of the people who rely on important public services.
"It is also about greater transparency in political funds and in facility time."