Bashir Naderi response 'not acceptable', says minister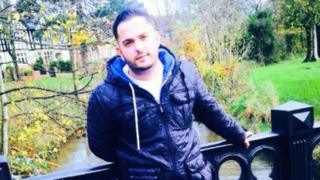 The Home Office's failure to respond to a Cardiff MP about the deportation of a constituent is "not acceptable", a Wales Office minister has said.
Guto Bebb told Jo Stevens he would be happy to take up the matter regarding Bashir Naderi with the Home Office.
An effort to stop Mr Naderi being deported to Afghanistan failed in January.
He has lived in Wales for 10 years, after his mother paid traffickers to bring him to the UK.
His deportation was temporarily halted by a judge hours before he was due to board the plane in October and a 14,000-signature petition was handed into the Home Office in January.
Mr Naderi fled from Afghanistan at the age of 10 after his father was killed by the Taliban.
He went to school in Cardiff and speaks with a local accent.
His case was featured in a BBC Three documentary last month called Don't Deport Me I'm British.
Ms Stevens, the MP for Cardiff Central, told a Westminster Hall debate she had written to the home secretary and presented the petition to her but had not received a response.
She said: "The government's current policy on child refugees like Bashir - forcing them to re-apply for asylum when they turn 18 - is not only callous but surely an ineffective use of Home Office time when the government could be supporting people who need it."
Responding for the UK government, Guto Bebb said: "I would personally be more than happy to take that up on behalf of the honourable lady with the Home Office if she cares to write to me about that issue.
"Such a delay in responding to an honourable member is simply in my view not acceptable so I'll happily look into that on behalf of the honourable lady if that's an offer she will appreciate."