No wider problems behind timber deal, says Lesley Griffiths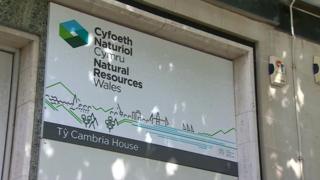 A controversial timber deal has not revealed wider problems at Natural Resources Wales, according to the environment secretary.
Lesley Griffiths made her comments despite damning criticism from AMs.
They said Natural Resources Wales (NRW) had been "in denial" and showed "arrogance" when criticised by the assembly's Public Accounts Committee.
It followed NRW's decision to sell timber to a sawmill company for £39m without a proper business case.
The 10-year contract was signed with BSW Timber in 2014, but has now been cancelled after the company failed to open a new saw line as expected.
In a Senedd debate, Ms Griffiths said the committee had "highlighted some weaknesses".
But she said: "Taking into account the context of a newly formed organisation going through a very radical transformation and having to manage some unique issues during its first few years I do not believe the PAC [Public Accounts Committee] scrutiny has revealed any wider systematic failing by NRW."
Ms Griffiths added: "I am pleased NRW have conceded, with hindsight, they would have handled things differently."
A new NRW chief executive is expected to be appointed soon to succeed Emyr Roberts, who is retiring.
Committee member Lee Waters, a Labour AM, said NRW's attempt to legally challenge advice from the auditor general showed the "broader arrogance of the leadership team" who gave "a performance utterly lacking in humility".
Labour AM Jenny Rathbone said that Dr Roberts was "in denial" when he gave evidence to AMs.
She said the affair raised questions for the Welsh Government "as to whether NRW any longer has the capacity to play the strategic role in the wood industry in this country that we desperately need".