Scrapped scheme helped Welsh schools improve, report says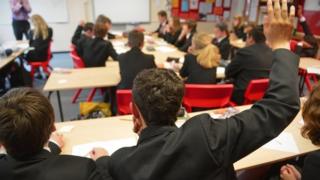 All Welsh schools in a now-scrapped improvement scheme made academic progress, an evaluation has found.
Schools Challenge Cymru (SCC) was launched in 2014 and initially involved 40 underperforming secondary schools.
Researchers SQW said the quality of leadership and management improved at most of the schools.
The Welsh Government described it as a "valuable time-limited policy". A total of £49m was spent on the programme over three years.
Schools spent most of the money on professional development for teachers, additional support staff, new buildings or refurbishments and "targeted pupil interventions".
SQW found that:
While the schools generally performed below the Welsh average in core subjects, each of them made academic progress in the first two years of SCC
Funding was "commonly credited" with improving teaching performance
Progress in improving self-evaluation systems was "variable"
However, the study said it was too early to fully assess its impact on pupil attainment and progression.
The researchers said that "SCC appears to have supported many improvements" although it said "a range of other internal and external factors (including leadership) have played an important role".
"Although school interviewees tended to feel that SCC funding was the main factor in enabling improvements, it was the intelligent and targeted use of funding that most supported impact," the researchers added.
In June, assembly members questioned why SCC was scrapped before it was fully assessed.
Fifteen of the schools were in the South East region.
The area's education achievement service managing director, Debbie Harteveld, said: "The professional development for teachers and leaders was great and we would never have achieved what we did without SCC.
"It was a lot of money and several schools did well and accelerated.
"But not all schools made the progress we would have wanted and some are still a cause for concern."
In response to the report, Andrew RT Davies, leader of the Welsh Conservatives, said in a tweet he imagined there would be "some unhappy Labour backbenchers this afternoon", suggesting they may be "very cross at their Lib Dem education minister".
'Improve standards'
A Welsh Government spokesman said: "Schools Challenge Cymru was a valuable time-limited policy.
"We want to make sure we build on its successes for the benefit of all schools in Wales as we continue our drive to improve standards and raise the aspirations of all our pupils."
SCC was set up by the then Labour education minister Huw Lewis in 2014.
He recently said he was "particularly proud" of the scheme.
His successor, Lib Dem Kirsty Williams, decided to end the scheme last year.