Ireland border open after Brexit, Carwyn Jones claims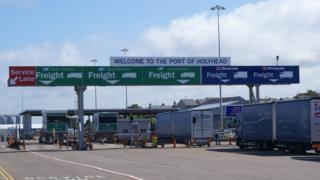 There will be an open border with the EU on the island of Ireland after Brexit, Carwyn Jones has claimed.
The first minister said Theresa May's UK government was "chaotically" coming round to the Welsh Government's position.
But a Whitehall source accused him of trying to "re-write history".
Meanwhile, Plaid Cymru said Welsh ports would be in "chaos" if the EU agrees to a soft border between Northern Ireland and the Republic.
The UK government published proposals for an "unprecedented" solution to the Irish border, with wide-ranging exemptions from any new tariffs for small and medium-size firms after the UK leaves the EU.
In a series of tweets, Mr Jones said: "In the last few days, the UK government has effectively conceded some form of customs union will be needed post-Brexit... that an open border will exist with the EU through Ireland.
"Slowly, chaotically, but surely the UK government is coming round to positions we set out months ago."
A UK government source called the tweets "a bit rich", accusing Mr Jones of being "all over the place" immediately after the EU referendum.
Soon after the Brexit vote last June, Mr Jones said the UK should tell Brussels it was starting the process of leaving the EU as soon as possible.
Earlier in August, a Welsh Assembly committee report also warned a soft border in Ireland could lead to delays at Welsh ports.
The external affairs committee also claimed there could be a loss of business if freight companies sent cargo to Northern Ireland from Scottish and English ports, instead of sailing directly to the Republic from Holyhead, Pembroke and Fishguard.
Plaid Cymru MP Hywel Williams said the onus for customs checks on larger firms "will now lie on ports in Wales".
He said the UK should stay in the EU's customs union to avoid such disruption.
'Detrimental delays'
"There should quite rightly be no hard border between the Republic of Ireland and the UK," he said.
"However, the reality of both future trading positions outlined in Tuesday's paper means that the onus of the self-admitted 'increase in administration' will now lie on ports in Wales.
"Welsh ports will potentially face chaos and detrimental delays if these plans are carried through.
"It is quite clear that the only way to avoid disruption is for the UK to remain in the EU Customs Union."
UK Chamber of Shipping communications director Jonathan Roberts said the number of HGV lorries using ferries to cross the Irish sea had risen by more than 600% into Holyhead alone since the removal of customs checks at ports in 1992.
"There simply is not the physical space nor capacity in ferry ports to park these lorries for long periods whilst customs checks take place," he said.
"Any hard seaport customs stops could result in severe disruption to the entire supply chain of goods coming from and going to Ireland and beyond."
A UK government spokesman said: "The government is aware that a significant proportion of the traffic at many ports, including those in Wales such as Holyhead, is not currently subject to customs controls.
"We will seek to ensure that customs arrangements and mechanisms are as frictionless as possible and that trade fluidity is maintained."