Politics and parenting: AMs and MPs canvassing with kids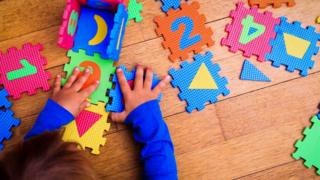 Accessing childcare is expensive and one of the biggest issues facing parents in Wales.
But what happens when you are elected to the assembly, parliament or a local council and have to juggle the pressures of parenting?
How do you make it work when you live hundreds of miles away from home four days a week?
As calls are made for the Welsh assembly to follow Scotland's example and open a creche, BBC Wales spoke to politicians about taking babies out canvassing and relying on parents for support.
Tonia Antoniazzi - Labour MP for Gower - mother of one
When Tonia Antoniazzi won back the Gower seat for Labour at June's snap general election she admits she had not really thought about childcare.
With her ex-husband working shifts, her 13-year-old son, Jac, is looked after by her 70-year-old mother while she is more than 200 miles (320km) away in Westminster.
"It's a real challenge and I feel very concerned about his wellbeing as I'm not there for most of the week when he's at school," she said.
"He does miss me terribly. He takes some ribbing about it from his school friends, but generally on the whole he is very proud of me. But it doesn't take away, if something goes wrong, I'm not there and that I do struggle with."
The former teacher said the election was so fast she had had little time to contemplate the impact on Jac, who has a different last name in a bid to keep his life as "normal as possible".
She said it was only now, when the Commons is in recess, that the reality of the situation has begun to set in.
"It was just a complete whirlwind from the start, everything has just been 100 miles an hour, it's been very fast. I've absolutely loved every second of it, but the reality is quite harsh.
"While this job is absolutely perfect for me, I feel my priority has always been my son, it's never been my career.
"I'm now in a position where I feel it is time for me to focus on my career, but I do feel very selfish as well.
"I feel guilty, if my son needs me or if he has issues, where am I? I'm in London and he is being looked after by his grandmother."
Hywel Williams - Plaid Cymru MP for Arfon - father of five
First elected to Parliament in 2001, Hywel Williams' children are no strangers to having a dad in politics - when the Commons comes on the TV they shout: "Oh, daddy's office!"
The father-of-five splits his time between London and his home in Caernarfon, working away from home four days a week and often attending events on weekends.
With his oldest child being 37 and his youngest 18 months, the grandfather-of-four said the main issue the family faced was childcare as his wife, a lecturer, also works full time.
Mr Williams, 64, said being a parent and an MP had its "ups and downs" and it did present challenges, including how to keep young children entertained when he was talking to constituents.
"They have always been used to this sort of way of doing things.
"For their friends it must seem quite odd, it must seem like I just disappear.
"I try to make up for it when I'm home and during the holidays. I'm not complaining but it takes some organising."
Mr Williams said when he took the children to Westminster they received lots of attention and loved it because they "get to eat sponge and custard in the cafe".
But he said there had been pushback from some MPs about young children being brought to late-night votes and cabinet sessions and, while there was a nursery, it was not of any use to him as it was for long-term use.
"The fact that they have one is great, but it is more for people who live in London than for people such as myself."
Sarah Rees - 2016 assembly election candidate - mother of two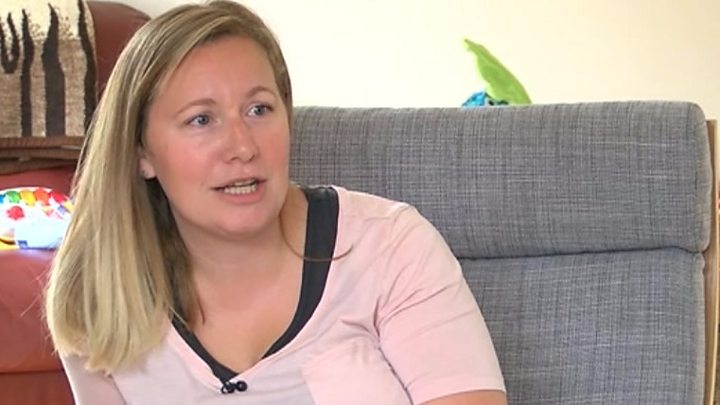 When Sarah Rees stood as a candidate for the 2016 assembly elections, she took her then two-year-old daughter, Caitlin, out on the campaign trail.
Now a mother-of-two, the deputy leader of the South Wales branch of the Women's Equality Party, said she would never have been able to stand without the party helping with her childcare costs.
The 36-year-old said: "I concentrated on day times when she would be at nursery. I did evenings with other candidates and she would be in bed.
"In the recent election I did take both children out canvassing - Danny in a sling attached to me, at three months old, and Caitlin walking alongside.
"Your attention is constantly being taken from one to the other, so to try and hold a conversation with someone on the doorstep is again something on top and it did get quite difficult."
Ms Rees said she stopped taking the children out canvassing when one of the party's candidates in London received death threats, saying they were going to kill candidates.
Darren Millar - AM for Clwyd West - father of two
When he was first elected to the Senedd a decade ago, Conservative AM Darren Millar said he felt guilty for leaving his children for so long every week.
Mr Millar, whose children Mary, 17, and Toby, 14, were just infants at the time, said being away from his family home in north Wales had been "pretty grim".
"I suddenly became a parent who was around all the time to someone who was away four days a week.
"It makes you think 'am I doing the right thing in getting involved, is it fair to Becky, who is effectively a single parent in the week?'"
He said he could understand why so many politicians quit to spend more time with their families and he tried to get as much quality time with his children as possible.
"I simply couldn't do my job without Becky's support, I always try to get a Sunday off and carve that time out."
Rhianon Passmore - AM for Islwyn - mother of four
Rhianon Passmore's children grew up surrounded by politics and her eldest daughter even followed in her footsteps to become a county councillor.
"I think I've been very lucky, because I've always been involved in politics in local government, so my children have grown up with the more chaotic timescales that are attached to life in politics."
Ms Passmore, who was elected to the assembly in 2016, said when she was a councillor she did not claim childcare expenses.
"Local government has structures in place so you can have a childcare support allowance, I never claimed that, and I think there has always been a stigma attached to whether or not you claim different allowances.
"I didn't claim it because I felt I needed to be the same as everyone else. In the past that has been the case for women in local government, but I would stress, I think that is definitely changing now."
Ms Passmore takes her youngest child, aged 10, to events at the weekends but said there were many which were not suitable for children.
"I think there is a very fine balance between how you interact with your children in public life and how you don't do that," she said.
"I think it is important that family life continues if you are in politics or in public life.
"Yes, it's a very great honour but I think it's very important that those who make policy are able to reflect on how these policies impact on families."