'Outdated ideas' keeping women out of building industry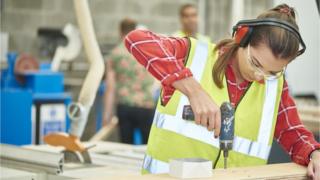 Outdated perceptions are stopping women taking up construction apprenticeships in Wales, a training board has said.
Figures from the Office for National Statistics show just one in seven of the Welsh workforce are female.
The Construction Industry Training Board (CITB) Cymru said there was still a perception construction was an industry "only suitable for men".
The Welsh Government said encouraging women to pursue careers in the industry was "a key priority".
CITB partnerships manager Donna Griffiths said with nearly 20,000 jobs set to be created in the construction sector in the next five years, there had never been a better time to get training.
"There is still a perception that construction is an industry only suitable for men," she added.
"We really want to dispel this myth. With over 150 different construction roles to choose from there really are roles for everyone with any interest and any background."
In response to the shortage, the CITB have launched the Can You Dig It? campaign, to inspire people to think about a career in construction.
Jessica Richards, 27, started an apprenticeship in carpentry five years ago after seeing someone working on the ceiling at the gym where she worked.
The sports therapist, who will be heading to Dubai to work with the New Zealand cricket team in September, used her skills to help build Kachumbala maternity ward in Uganda.
She said: "I took a risk and became self-employed in July. I enjoy juggling my roles. There's plenty of carpentry work at the moment and it will pick up in winter.
"If you like getting your hands dirty and you're good with your hands, carpentry would be a good option but the roles don't stop at trade.
"There's a variety of roles for women in construction."
A Welsh Government spokeswoman said: "We welcome CITB's new campaign to get more women involved in the construction sector, especially as it complements work we are already doing in this area, including taking part in Chwarae Teg events such as #NotJustForBoys and deploying our 'Have a Go' initiative in schools, to try and eradicate the gender stereotypes which exist around some sectors."