Mark Reckless's political journey from UKIP back to Tory fold
By James Williams
BBC Wales political reporter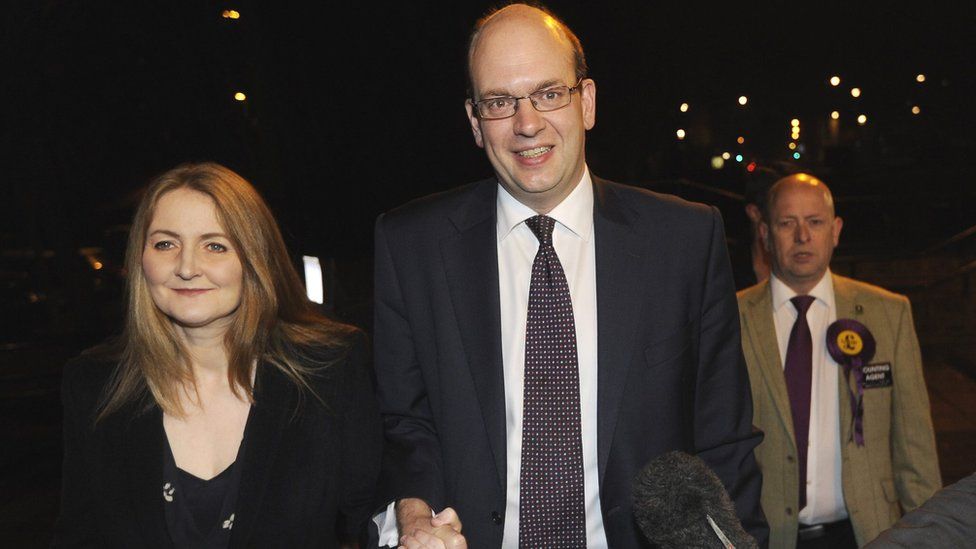 "They had a rule in Parliament that no dancing was allowed. As someone with two left feet, that was something I welcomed."
A wedding day without some questionable dancing may seem out of the ordinary for most, but it suited Mark Reckless just fine.
He and Catriona Brown - a lawyer and former UKIP councillor - will shortly celebrate six years since their wedding day in Westminster Cathedral, with the reception just across the road in the Houses of Parliament.
At the time, with Mark having been a Conservative MP for just over a year, it was an apt location for a man whose ambition was to work in politics "ever since I remember, really".
But his wasn't a political household - his mother, a nurse, who came over from Ireland when she was 17, met his father while he was training to be a doctor.
Mark, born in London, would move with the family to California for a time before settling in the small village of Buckland Dinham, near Frome in Somerset, when he was eight.
"Very, very happy school days" at primary school in Frome, Catholic prep school in Shepton Mallet and the private Marlborough College in Wiltshire followed.
After a gap year working for the technology company IBM, Mark would then take the well-trodden route for many from the Westminster political class - a degree in politics, philosophy and economics at Oxford University.
"I think it's become more notorious since my days," he says, before listing Conservative politicians Jacob Rees-Mogg, Nicky Morgan, and MEP Daniel Hannan as his contemporaries.
Mr Hannan, who he met at school, has been a lifelong friend and Eurosceptic campaigner - they founded the Oxford Campaign for an Independent Britain together.
They were best man at each others' weddings. Mark Reckless organised Mr Hannan's stag do in the Icelandic capital, Reyjkavik, because he had "expressed a desire for it to be held outside the European Union... though he turned down the idea of an extension trip to Greenland as the only place to have left the European Community at that point!"
Post-university years involved working as an economist for Warburg's investment bank (now merged into UBS) before moving to New York to study an MBA at Columbia University.
At the second time of asking, Mark secured a job working at Conservative Campaign Headquarters (CCHQ) in 2002.
David Cameron interviewed him when he first applied for a job at party HQ during his gap year. Asked in the interview to sell the poll tax, Mark does not think he "came up with a sufficiently compelling answer to persuade him to take me on!"
Finally accepted inside the Conservative tent, his research work focused on developing the idea for elected police and crime commissioners.
Whilst later working as a solicitor for City law firm Herbert Smith, it would take him three attempts before he succeeded in winning the Kent constituency now known as Rochester and Strood for the Conservatives in 2010.
"I campaigned very hard over 10 years to win that constituency and was proud when I did so," he says.
Asking him for his proudest moment as an MP, he is quick to reply his work in orchestrating the coalition government's first Commons defeat, leading 53 Tory rebels to join with Labour to back a motion demanding a real-terms cut in the EU budget.
Rebelling against the government was to become a pretty regular occurrence.
"The whips at one point spoke to my constituency association expressing concern about my voting record," Mark says.
"But my constituency chairman told them that they wished I'd gone further and had voted against the government rather than merely abstaining."
And his lowest point? Missing a Commons vote because he had had too much to drink on the terrace bar.
The father-of-three says he has not drunk for a few years - "it's harder to manage young children with a hangover".
No stranger to Westminster's pub circuit, Nigel Farage would soon play a more prominent role in Mark's political life.
In his book, the former UKIP leader claimed Mark turned up at his house "in dark glasses and a baseball cap so that the neighbours wouldn't recognise him" as they discussed his defection from the Tories.
Mark is still a little coy about it, saying only he had met Mr Farage "a few times - he was always someone I've sort of known for some time".
"I felt that [then Prime Minister] David Cameron wasn't serious about his supposed renegotiation with the EU and I feared that we would seek to tilt the playing fields against our side in any referendum," he says.
He cuts across: "It was more a sort of focus on it being the UKIP conference [on that day] and there being people there who for twenty years had been campaigning to leave the EU.
"For me it was a positive thing, wanting to speak to those people, rather than anything to do with the people I was leaving."
The timing, he concedes, was "perhaps an unfortunate coincidence".
After quitting his seat and winning the resulting by-election under the UKIP banner, Mark recalls a "slightly difficult encounter" with Mr Cameron immediately after the next Prime Minister's Questions.
"I was slightly surprised to be told that my windowless broom cupboard of an office had been reallocated whilst I was fighting the by-election and was now Douglas Carswell's office," he says.
"I was being allocated another room. I certainly couldn't stand up in it."
He was told to raise the issue with Conservative whips who were at a meeting with farmers.
Mark struck up a conversation with one of the farmers when the prime minister was being ushered towards the farmer in question.
"This chap immediately introduced me and was beaming at the prime minister," he says.
"It was one of the few moments I've seen David Cameron not knowing what to say."
Fast forward six months and it was Reckless who was lost for words after losing his seat at the 2015 general election.
Out of the Tory party and out of Westminster, he was promoted to officer class in Nigel Farage's self-styled people's army.
But how did a politician with seemingly no previous connection to Wales end up in Cardiff Bay? Naked opportunism?
"I started actually as the party's head of policy and the focus of that work was in the assembly elections because of the opportunity for UKIP in Wales. It was through that work my interest in standing myself in that election developed.
"I think the assembly elections were a platform initially for UKIP for the referendum.
"Having then seven elected assembly members for a party committed to leaving the European Union I think gave a credibility to the leave side in that referendum that wouldn't otherwise have been there."
In the cafe at Ridgeway in Newport in his patch, the South Wales East AM tells me he is enjoying raising his family here - "it's so much less crowded in south east Wales than it is in south east England".
On the other hand, UKIP's turbulent year in the Senedd was less enjoyable for him.
"I think UKIP has failed to put its best foot forward in the National Assembly. It's a frustration," Mark says.
"I think that's a shame because I think Nathan Gill in particular put in an extraordinary amount of work over many years in leading UKIP in Wales."
"It wasn't my choice. I voted for Nathan Gill. I think things would've developed differently had Nathan won."
And yet, he is unsure whether Mr Gill at the helm would have stopped him from jumping ship once again, this time back to the Conservative fold in the assembly.
Leaving UKIP, Mark tells me, was "as much pull as push".
"Theresa May was putting forward a vision of Brexit that was everything that I wanted and still is. I think frankly that she deserves support in that," he says.
"I think people within UKIP have a partisan interest to the extent that they're more concerned perhaps about the UKIP label than they are about what you're actually trying to achieve."
Conservatives to UKIP and back to Conservatives (kind of) after a EU referendum victory, all in the space of less than three years.
It was dubbed "The Tate Plot", in reference to the pair's secret meetings in the Tate Britain art gallery on the banks of the Thames.
Mark says there is a "kernel of truth" to the story.
"We wanted to broaden UKIP's appeal," he says.
"We didn't succeed in doing that to the extent we would've wanted, but we did ensure that Vote Leave won the designation and not the outfit set-up by Arron Banks and Nigel Farage [Leave.EU]."
A victory for Vote Leave would be followed by victory for the leave campaign in the 2016 referendum on UK membership of the European Union.
Does he think Brexit is guaranteed to be a success?
"I think nothing is guaranteed. We will be a self-governing democracy and how successful we will be will come from us and will be under our own control.
"I support a relationship that is as seamless as possible. I think what's important is that we have tariff-free access to the EU market, particularly for Wales, in goods. I think we will succeed in having that deep free trade relationship with the European Union."
After more than an hour of conversation, Mark gets up to leave.
"I'm formally a member of the Conservative group and accept the Conservative whip in the Welsh Assembly. So, I'm not independent of my actions in the Welsh Assembly. I'm proud to support Andrew RT Davies and his team."
He turns for the door. Will he stand as a Conservative in the next assembly election?
"As to what may or may not happen in 2021, in 2017 I don't feel I know what I want to do in 2021."
Will he stand at all? "I don't know what I'll be doing in 2021 so I can't really answer that question."
But will he see out his term?
"I stood for election to the assembly and certainly it will be my intention to fulfil my elected mandate," he says, before thanking me and making for the door to pick up his son from cricket practice.
Defending his wicket, for now, but given his recent form, some may well ask how long he will remain at the crease.