Welsh Government to implement ban on microbeads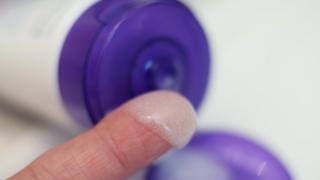 A ban on plastic microbeads in cosmetics is to be implemented in Wales, following a UK government decision to do the same in England.
The Welsh Government will launch a consultation later this year on how it will be enforced.
Environmentalists are concerned microbeads are building up in oceans and could be entering the food chain.
The small pieces of plastic have been used in toothpaste, body scrubs and other products.
It is yet not clear when the measure would come into force in Wales, with the implementation date to be included in the consultation.
The UK government has said the ban will come into effect in England at the start of 2018.
There is only one company in Wales thought to be manufacturing cosmetic products containing microbeads and it is believed to be phasing them out.
Although the UK government has backed a prohibition on the substances, the devolved administrations have to pass their own legislation for it to work in Wales, Scotland and Northern Ireland.
Local authorities' trading standards departments are expected to be responsible for enforcing the measure.
The Welsh Government said Environment Secretary Lesley Griffiths had agreed to implement the ban on the manufacture and sale of cosmetics and personal care products containing plastic microbeads in Wales.
Welsh ministers had earlier taken part in a joint exercise with the UK government and the other devolved administrations seeking views on a proposed ban.
Chris Flower, director general of Cosmetic Toiletry & Perfumery Association, argued it was "important that any ban on plastic microbeads is based on clear and robust scientific evidence of risk of harm to the marine environment".
He said that since 2015 the cosmetics industry had been voluntarily removing plastic microbeads from rinse-off cleansing and exfoliating personal care products.
Laura Foster, of the Marine Conservation Society, called for consistency across the UK in how the ban is implemented, adding: "We want to see the devolved administration come out with clear mechanisms with how they ensure compliance with the ban."
'Necessary preparations'
Plaid Cymru AM Simon Thomas said: "A ban on the manufacture and sale of cosmetics containing plastic microbeads would help cut down on plastics in our seas and our shorelines."
Welcoming the two governments cooperation on the policy, Conservative environment spokesman David Melding said "protecting our seas from plastic pollution should be a top priority".
A Welsh Government spokesman said: "Through our consultation, we want to gain the views of all interested parties, make sure all manufacturers in Wales are aware of the ban well in advance and they have sufficient time to make the necessary preparations."
The ban would not require a full bill to be passed in the assembly, but would be implemented through secondary legislation.