UKIP's exclusion from Unison debate overruled by council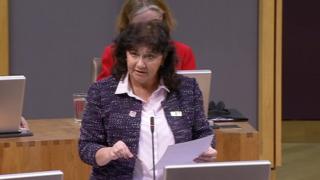 A union's decision to exclude a UKIP AM from a Question Time-style event it is organising has been overruled.
Unison had told Caroline Jones her invitation to the debate at Neath Port Talbot council chambers was an error.
All other AMs in South Wales West remained invited but the union said its members would not want UKIP there.
UKIP say council chief executive Stephen Phillips has now asked her to attend as she has "the same democratic mandate as any other assembly member".
Mark Fisher, chairman of Unison in Port Talbot, confirmed next Friday's event would still go ahead.
"We don't agree with the decision of the chief executive to invite Caroline Jones, but we respect it," he told BBC Wales.
"It's on council premises and they're allowing staff time off to attend the event.
"As far as we're concerned, the event will go ahead."
'Enlightened'
A UKIP Wales spokesman congratulated Mr Phillips for "overruling Unison and for recognising the equal democratic mandate of UKIP assembly members".
"All representatives of the people of Wales must be heard, and we hope that other councils take note of this enlightened decision and include elected UKIP members at future Unison meetings held on public property," he said.