Byron Davies elected Welsh Conservative chair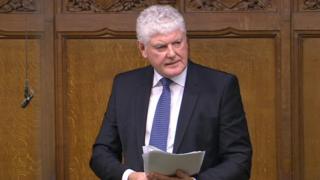 The Conservatives need "strong leadership in the assembly", the party's new chairman in Wales has said.
Byron Davies is a former MP, having won Gower in 2015 before losing it in June.
In his first comments as chairman, Mr Davies suggested that the Welsh Conservatives do not need further autonomy from party bosses in London.
He reiterated his opposition to ex-UKIP AM Mark Reckless rejoining the party, but said his place in the Tory assembly group was a matter for its AMs.
Assembly group leader Andrew RT Davies has called for the Welsh Conservatives to have a designated leader able to make independent decisions.
Asked about the South Wales Central AM's comments, the new Welsh party chairman said: "The Welsh Conservatives have a very strong identity as being the Conservative party in Wales.
"I do not believe that we need any change.
"What we do need is strong leadership in the assembly, of the assembly group.
"Andrew and I will be meeting shortly - we've already been in touch with each other, and we'll be having a conversation around that."
Byron Davies has previously criticised the decision to allow Mr Reckless - a former Conservative MP who defected to UKIP - into the Tory assembly group.
He reiterated to BBC Wales that he would not be "welcoming him back into the Conservative fold personally".
Many MPs and voluntary party members agree with him, he said, saying that Mr Reckless' membership of the group was a matter for Andrew RT Davies.
When questioned on whether he supported him as Conservative leader in the Senedd, the new chairman said: "At the moment he's the elected member by the assembly members and that's a matter for them."
But he added he did not want to build a "great wall" between himself and the assembly leader, saying they were "great friends".
Meanwhile Jamie Wallis and Tom James have been elected as deputy chairs alongside Mr Davies.
The three were chosen through an electoral college made up of Conservative constituency chairs, deputy chairs and some councillors.
A Conservative source in the Welsh Assembly said Andrew RT Davies was "positive" about working with the new chair, who he said was well placed to understand the need to reform the party in Wales.
Mr Davies offered his congratulations in a tweet, saying: "Look forward to working together to build the foundations for a successful future."
Nick Ramsay, Tory AM for Monmouth, welcomed Byron Davies's election, saying: "We need to look carefully at the reasons behind the loss of Welsh Conservative representation in Wales over the last few years and I'm confident Byron is the person to do this."