Strike ballot rules scrapped in Welsh public sector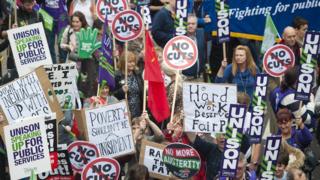 Welsh public sector workers have been made exempt from tougher new rules covering strike ballots.
That is despite a UK government pledge to reverse the measure as soon as possible.
The UK government's trade union act means 40% of the total workforce now have to approve a strike before it is legal.
But Welsh Ministers passed their own bill making NHS, education, council and fire service workers exempt.
The assembly bill, given Royal Assent on Thursday to become an act, also makes public sector workers exempt on other new restrictions, including payroll deductions for trade union membership.
However, separate constitutional changes due to come into force in 2018 clarify that industrial relations are not part of the Welsh Government's powers.
Ministers in London intend to change the law again to bring Wales back in line with England "at the earliest possible opportunity".
Finance Secretary Mark Drakeford said: "It has always been our position that constructive social partnership is by far the best way to prevent strike action.
"We should never have been in a position where we had to introduce an act in Wales to dis-apply parts of a UK act but the UK government would not accept this was an area of devolved responsibility.
"I'm proud that workers in public services in Wales will continue to be protected and that our approach of bringing government, employers and trade unions together to resolve disputes will continue to be upheld."
But a UK government spokesman said: "The UK government believes that the safeguards in the Trade Union Act 2016 should apply across Great Britain.
"The Wales Act 2017 clarifies that industrial relations are a reserved matter and the UK government will act at the next available opportunity, following commencement of the Wales Act, to ensure the legislation protects our public services."
Welsh TUC general secretary Martin Mansfield said his organisation would "oppose any underhand attempts by the UK government to undermine democratic devolution in Wales".