Neil McEvoy complaints before Plaid Cymru disciplinary panel
By James Williams
BBC Wales political reporter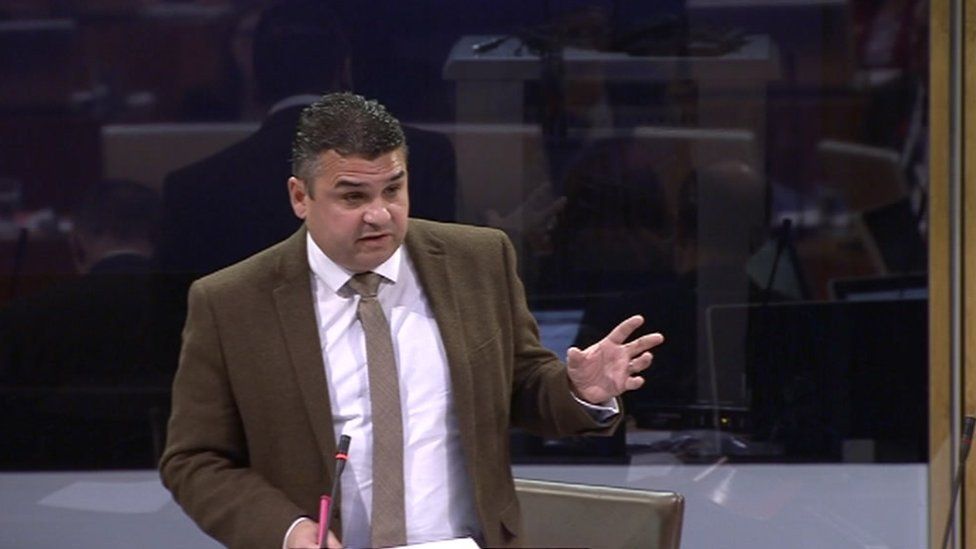 A Plaid Cymru disciplinary panel will consider three formally submitted complaints against AM Neil McEvoy, BBC Wales understands.
In March, an internal inquiry was launched into allegations, including that he made comments amounting to "bullying behaviour".
A number of these have been dropped ahead of Thursday's meeting.
Mr McEvoy, a South Wales Central AM, said he wanted to "finally put this matter to rest".
Announcing the inquiry in March, a spokeswoman said the party would "look at all evidence and complaints available to it".
It followed a tribunal finding that Mr McEvoy, also a Cardiff councillor, made a comment which amounted to "bullying behaviour" but did not bring the local authority into disrepute.
He initially challenged the decision but was ordered to pay nearly £9,000 costs after dropping the appeal, saying he would pursue the case "in a political way" rather than through the courts.
The Plaid investigation into Mr McEvoy's behaviour was launched after accusations were made against the AM on social media following the tribunal's verdict.
It also led to a group of domestic violence survivors and women's activists, including Labour member and Welsh Women's Aid ambassador Rachel Williams, writing to Plaid calling on the party to review its support for Mr McEvoy.
He previously accused Welsh Women's Aid of "publicly-funded child abuse" - comments for which he later apologised and received a formal warning from Plaid.
Six months after announcing the internal inquiry, Plaid's disciplinary panel will meet in Cardiff on Thursday night.
It will be chaired by solicitor Fflur Jones and will decide whether there is any basis to further investigate three formal complaints submitted to the party's inquiry.
BBC Wales understands other complainants have been given various reasons as to why their submissions will not be presented for consideration.
A Plaid spokeswoman declined to comment other than to confirm the panel's meeting.
Mr McEvoy said: "I'm glad we can finally put this matter to rest. If I'm ever asked to defend a single mother being evicted in court again I won't hesitate.
"There's clearly a campaign to try to damage my reputation by the establishment.
"I'm now looking at all comments made with my legal team. I won't take any untrue allegations lying down."