New minister yet to work in Wales since starting job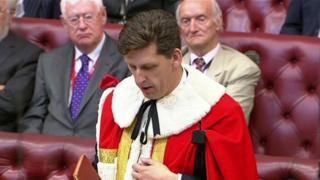 Meet the new parliamentary under secretary of state for Wales.
Lord (Ian) Duncan of Springbank was apparently appointed to the role in June, but the Wales Office didn't exactly trumpet their new minister.
Indeed, in Downing Street's full list of ministerial appointments his name appeared only under his other role as a junior minister in the Scotland Office.
And the Wales Office chose not to correct reports that Lord Bourne of Aberystwyth had not been replaced after his move to the Northern Ireland Office.
The Wales Office has had a minister in the Lords since 2012. Before that, a peer would act as a departmental spokesperson.
The Wales Office insists that Lord Duncan's appointment was on the main government website in June. As I write, his Twitter biography describes him as "UK Government Minister for Scotland".
Until his appointment, Lord Duncan was a Conservative MEP and before that head of the Scottish Parliament's European office in Brussels. He was also European adviser to the Holyrood Parliament and clerk to its European and external relations committee.
He narrowly lost the Perth and North Perthshire Westminster seat to the SNP in the General Election on June 8. His raising to the peerage two weeks later caused a bit of a row.
A Wales Office spokesperson said: "He will be bringing welcome experience, particularly on issues relating to the European Union given his background in Brussels and the Scottish Parliament."
I asked when the new Wales Office minister last visited Wales.
"He hasn't had any official business there," said the spokesperson.