The leadership contest no-one is talking about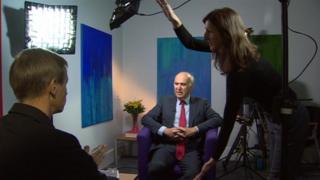 Greetings from Bournemouth, which tells you that, for me, it's the start of the party conference season.
Unlike the last Liberal Democrat gathering in Wales, the Lib Dems have decided to let the media in for their autumn UK conference.
They are meeting after a general election in which their vote fell, their number of seats increased by a third, and in Wales they were wiped off the Westminster map.
Ahead of the conference I had a short conversation with the party's new UK leader, Sir Vince Cable. He insisted he was optimistic about the party's prospects in Wales - I guess he couldn't say anything else really.
We shouldn't underestimate the resilience of party activists; they have the dedication of football club supporters who keep following their team through multiple relegations. But the conference feels as if it has shrunk and there are few from the media here.
Kirsty Williams, the only Welsh Lib Dem in government anywhere in the UK, is using her speech to delegates to highlight her role as education secretary. She is focusing on improving standards and has been critical of her coalition colleagues' past record in that area.
In the space of two years, Ms Williams has been leader, deputy leader and - since June - [acting] leader again of the Welsh Liberal Democrats.
But it's a job she doesn't want to do any more - Vince Cable suggested the burden was incompatible with running a government department.
So who will be the next leader of the Welsh Liberal Democrats, I hear you cry. The party has changed its rules so that the leader no longer has to be an AM or an MP.
Instead "approved candidates" for Westminster or Cardiff Bay will be allowed to stand, which means the new leader will be someone recently rejected by the voters. Or, if your glass is as half full as Vince Cable's, "a new face".
Curiously, potential candidates are being rather shy about coming forward. Jane Dodds, who lost Montgomeryshire in June, has declined requests to confirm her candidacy. Liz Evans, the defeated candidate in Ceredigion in the 2016 Assembly elections, is another name mentioned.
Nominations close on 23 September, with the result due to be announced on 28 October.
PS: Sir Vince was rather surprise to learn that the entire Welsh Liberal Democrat autumn conference was held in private. He told me he did wonder why his visit got so little publicity. "I can only apologise," he added.