Welsh Government publishes 'prosperity' strategy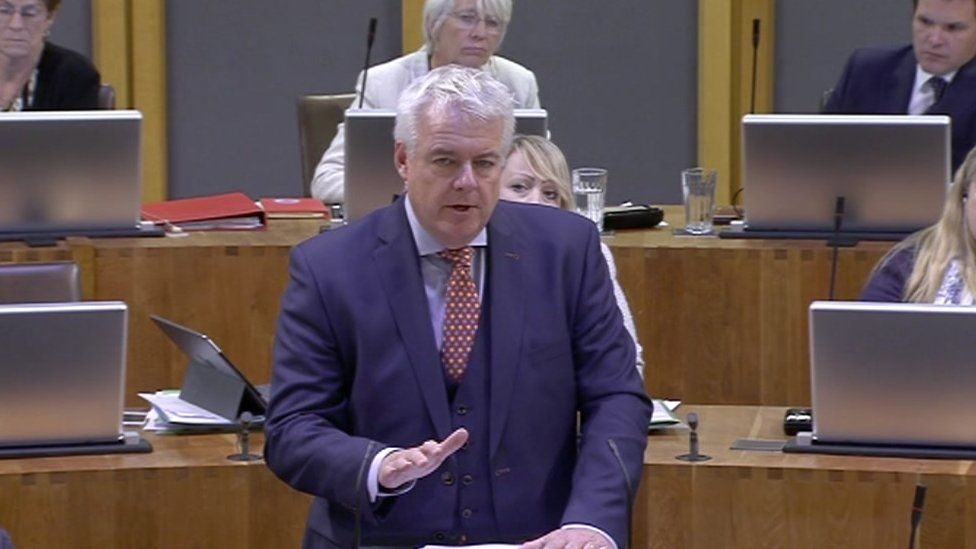 A new national strategy will help the public sector achieve prosperity for all, the first minister has said.
But the strategy was strongly criticised by Plaid Cymru AM Adam Price, who said he felt a mixture of "confusion and despair" reading it.
The strategy outlines areas that the government says can make the greatest contribution to long-term well-being.
These are early childhood, housing, social care, mental health, skills and employability.
'More than material wealth'
Mr Jones said: "Today we publish a new national strategy designed to bring together the efforts of the whole public sector towards this Government's central mission of delivering Prosperity for All.
"Prosperity is about far more than material wealth and cannot be delivered by economic growth alone.
"It is about every person in Wales enjoying a good quality of life, living in a strong, safe community and sharing in the prosperity of Wales.
"This strategy takes our commitments in Taking Wales Forward, places them in a long-term context, and sets out how they will be delivered in a smarter, more joined up way that cuts across traditional boundaries, both inside and outside government."
The document lists a range of commitments, many of which have been previously announced.
The strategy says the Welsh Government will commit to a new economic contract between businesses and government, and simplify and rationalise business support, while introducing a new regionally-focused economic development model.
It says ministers will continue to "drive to improve" further the standard, quality and timeliness of treatment across the NHS, and that in education ministers will "focus relentlessly on driving up every pupil's attainment".
Several AMs mistook the document for the long-promised Welsh Government economic strategy.
Plaid Cymru's economic spokesman Adam Price said: "As a member of this National Assembly and, being frequently on the receiving end of government strategy documents - and they come thick and fast - I'm often oscillating between a state of confusion and a state of despair.
"Having speed-read this document this afternoon I feel a mixture of both.
"I was under the misapprehension that this was going to be the date of the publication of the new economic strategy."
UKIP group leader Neil Hamilton said: "When I went through this document and asked what's new... I struggle to find anything that was new at all."
Conservative economic spokesman Russell George told the Senedd he was disappointed that a comprehensive economic strategy was not published.
"Like other members across this chamber, of all parties, that's what I was expecting," he said.
Mr Waters, however welcomed the attempt to "join-up the different areas of government activity".
Related Internet Links
The BBC is not responsible for the content of external sites.