Tata Steel Welsh jobs pledge over Thyssenkrupp merger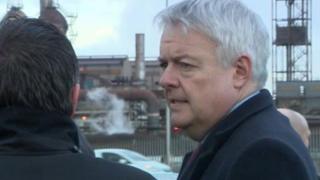 Welsh jobs are not under threat from a merger of two giant steel companies, the first minister has said.
About 4,000 jobs are expected to go across Europe when Tata Steel and the German firm Thyssenkrupp join forces.
Carwyn Jones said he "can only take Tata at their word" that the Welsh workforce of nearly 7,000 - including 4,000 in Port Talbot - was unaffected.
He accused Plaid Cymru of "scaring" Welsh steelworkers by predicting a "bloodbath in a battle for jobs".
The Indian and German companies have signed a memorandum of understanding to combine their European steel operations in a 50-50 venture.
The deal would create the second largest steel firm in Europe.
Mr Jones said he and Economy Secretary Ken Skates had been briefed by Tata Steel UK in advance of Wednesday's announcement.
"They said the Welsh sites would be protected, and so would jobs," he told BBC Radio Wales on Thursday.
"On the basis of what I've been told so far …. it would seem that the job losses would be elsewhere, but we have to wait and see how these things play out."
The first minister stressed that "we've come a long way" in the eighteen months since the Port Talbot workforce was rocked by the news that Tata Steel wanted to sell its UK operations.
"We've worked very hard with Tata Steel - we put a financial package on the table, and spent a lot of time talking to them to change their minds about putting Port Talbot and the other plants potentially up for sale," he told the Good Morning Wales programme.
"So, on the basis of what I've been told, it seems as far as Wales is concerned, Wales is not going to be affected much or at all by this announcement.
"I can only take Tata at their word in what they've said to me."
Mr Jones said the Welsh Government's offer of £60m financial aid to Tata Steel had not changed, and was still conditional on Welsh jobs being protected.
"If the Welsh Government is going to provide Tata with money, we expect to see jobs being at the very least kept in Wales, and hopefully the number of jobs being increased in production in the future," he said.
"People wouldn't expect us to give money to any business and not expect anything in return."
Plaid Cymru economy spokesman Adam Price claimed that the merger posed a "clear threat to the survival" of the Port Talbot plant and said the deal should be opposed.
"The merger of these two European steel giants will lead to a bloodbath in a battle for jobs," he said.
"With 27,000 steelworkers in Germany and a works council and unions in a much stronger position, it's a battle we in Wales will not win.
"The Welsh Government, in welcoming this development, are showing the same weak-willed complacency that befuddles their entire economic policy.
"For once in their lives they should stand up and fight."
Mr Jones dismissed the criticism, saying: "Plaid Cymru wanted to buy the Welsh steel industry for £700m, using money that doesn't exist.
"What we've managed to do is talk to Tata, to put £60m on the table as a package and, as a result of that of course, we've moved a long way from where we were last year.
"Plaid Cymru have not been part of the discussions I've had, but it would be nice if they actually backed our steelworkers rather than scaring them."