S4C 'audience deserves better', says outgoing chief exec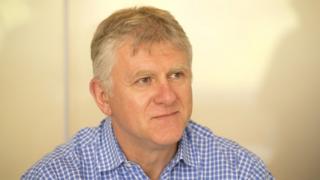 S4C's audience deserves better than the high number of repeats on the channel, its outgoing chief executive has said.
Ian Jones is leaving on Thursday after five-and-a-half years as head of the Welsh language television channel.
The chair of the S4C Authority, Huw Jones, said the appointment of his successor, Owen Evans comes with "possibly an element of risk."
In 2016, the outgoing chief told AMs 57% of its programmes had been shown before, a figure that was "too high".
It has now risen to 63% and he told the BBC Radio Cymru programme Manylu it was for others to judge if this was a black mark against his period in charge.
Asked if the audience deserved better, he said: "Personally I think they do. I don't like over 50% of the programmes being repeats.
"I would like to bring that figure down and put much more emphasis on original output."
S4C's budget has been cut by nearly £50m between 2011 and 2018.
The UK government has commissioned S4C's former director of programmes Euryn Ogwen to lead a review into the role and remit of the channel.
Mr Jones has called for an end to funding cuts.
"I hope the remit of S4C will change," he said.
"As a result of the review I hope to see a clear and transparent process to decide on the funding of S4C rather than S4C suffering yearly cuts made on a whim."
Mr Jones said the performance of the channel should not be judged solely on viewing figures.
Audiences to its programmes on the traditional Welsh language TV service across the UK have fallen to 9.1 million from 9.9 million the previous year.
He said he is leaving S4C in a better position compared to when he took charge.
"What we have tried to do over the last few years is turn everything on its head," he said.
"Question everything as a result of the cuts, attempt to change things and give stability to the sector and I believe we have done that."
Mr Evans, a senior civil servant in the Welsh Government, will be the fourth chief executive of S4C in seven years.