Theresa May talks Wales, lagoons, trains & hill-walking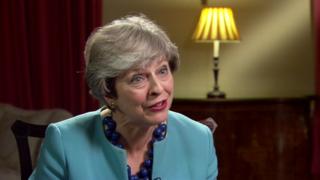 I had a few moments with the prime minister in No 10 ahead of the Conservative conference.
I found her more relaxed than in previous encounters, her answers slightly less formulaic.
I didn't really expect her to apologise for breaking a manifesto promise to electrify the rail line to Swansea and she didn't. Instead, she put the government line that bi-mode trains would deliver improved services without the need for electrification - which does raise the question of why the Conservatives put it in their 2015 manifesto.
She told me: "I think what I'm saying to people is that our focus is on ensuring that we're providing improved services for people. That's what people will see and I think that's what passengers want. They want to know that they're going to get those more reliable services which they will get, there'll be more capacity on the trains. I think this is what is important for people."
On the Swansea tidal lagoon, there were warm words about "a really interesting technology" hedged with comments about "issues" and "complexities". But I failed to get any sense of the timescale for taking a decision, the prime minister refusing to go beyond the infuriatingly timeless "in due course".
'Prosperity'
I suggested there was a pattern, with money being found for Northern Ireland and transport projects in London while Wales is left behind in the diesel age. You may not be surprised to learn that her answer mentioned city deals: "If we talk about money that is going into different parts of the United Kingdom, of course we've seen £2.2bn go into Scotland and Wales through city deals and through the Barnett formula. And indeed, I was in Swansea not some months ago actually signing the Swansea City deal which will be a very important funding proposition which will enable greater growth and prosperity in that part of Wales."
The prime minister set up the Joint Ministerial Committee (European Negotiations) to bring together UK and devolved ministers to discuss Brexit. It hasn't met since Article 50 was triggered at the end of March. I suggested that Mrs May claimed to want a country that works for everyone but she wasn't listening to Wales.
"Yes we are listening to Wales but what we're doing is sitting down with Carwyn Jones, with others, with officials in Wales and talking to them directly about the interests of Wales as we go through the Brexit negotiations," she said.
"Of course we will from time to time come together in a wider ministerial grouping but I think what's important is that by talking directly on a one-to-one basis with people in Wales we can be talking about Wales' specific interests in Brexit and how we build that country that works for everyone."
Finally, I reminded the prime minister that she has famously decided to call a general election while walking in Snowdonia. What was it about North Wales that prompted her to take such impetuous decisions?
The answer came with a smile: "I can assure you it wasn't an impetuous decision and I have actually been back to north Wales since and walking again in north Wales. We love going there because the scenery's great, the hospitality is great, we get a great welcome there and it's a wonderful part of the country."