Brexit very bad move, says firm as Alun Cairns visits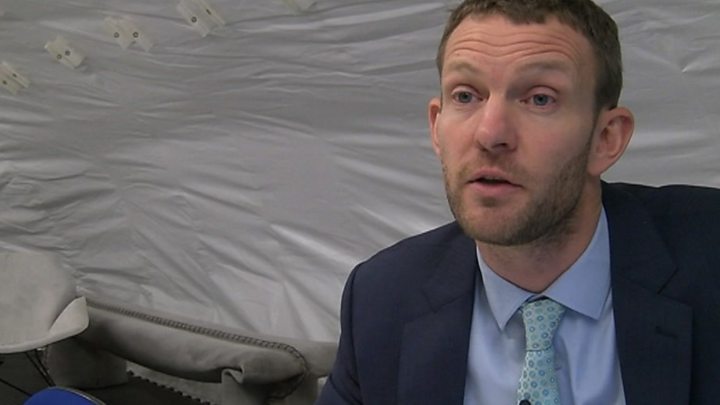 A firm visited by Welsh Secretary Alun Cairns to highlight opportunities after Brexit has called leaving the EU a "bad move" and not ruled out moving if there is no UK trade deal with Brussels.
At Concrete Canvas, near Pontypridd, Mr Cairns said he was "excited" by what could be achieved post-Brexit.
But company co-founder Peter Brewin said trading inside the EU "works and enables us to grow very fast".
Mr Cairns said ministers wanted a deal, yet planned for "every eventuality".
On Monday, the prime minister set out how the UK could operate as an "independent trading nation" after Brexit, even if no EU trade deal was reached.
Mr Cairns said: "Clearly, we want a deal. We want a deep and special partnership with the European Union. That's what we're planning and working towards.
"But, of course, people would expect us to plan for every eventuality and that's the right thing to do."
Concrete Canvas makes a fabric that when sprayed with water turns to concrete within 24 hours.
Around 85% of the firm's goods are exported and 80% of those products are sold to countries outside the EU.
Mr Brewin said the ideal outcome from Brexit talks "would be something that's close as possible to the existing arrangements from a trade perspective because currently we have something that works and enables us to grow very fast".
No deal, he warned, meant "all the current trade arrangements that rely on us being a member of the European Union would potentially fall away unless other arrangements were put in place in the meantime".
"It would also have a direct impact on our ability to trade with Europe, which is our closest and currently the easiest place for us to trade in the world," he said.
Asked if the firm might relocate if no deal was reached and the UK reverted to World Trade Organisation rules, Mr Brewin said: "We would certainly prefer not to but we will have to see what the deal is and what the landscape is and we'll have to select something that enables our business to continue to grow.
"Looking at it objectively, I think leaving the European Union is a very bad move.
"But we are where we are and we need to make the best possible deal for the UK and for British businesses like ours that are growing and are exporting because they are critical for the UK economy."