How would you vote in another Brexit referendum?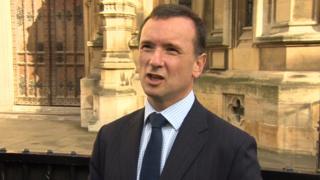 It's the question of the week. How would you vote if there were a Brexit referendum today?
It's a question (framed by LBC's Iain Dale) the prime minister chose not to answer.
That hasn't stopped almost every journalist in Westminster, with a startling lack of originality, firing the same question at members of Mrs May's government.
Her deputy, Damian Green, said he'd still vote remain. Treasury Chief Secretary Liz Truss and Health Secretary Jeremy Hunt, who both voted 'remain' last year, said they'd now vote to leave.
Mr Hunt switched because former Chancellor George Osborne's gloomy economic forecasts had not materialised. Ms Truss seems to have changed her mind for similar reasons.
So I thought I'd throw the same question at Welsh Secretary Alun Cairns, who campaigned for Britain to remain inside the EU. He told voters in June 2016 there were 100,000 jobs in Wales directly linked to our place in Europe: "The economic argument trumps everything else, at the end of the day this is down to the economy, jobs, jobs, jobs."
"The decision we make on June 23 will affect our prospects for years to come. We have a choice between voting Remain to deliver jobs, investment and growth in our economy. Or we can vote Leave and face the very real prospect of recession."
'Hypothetical'
He was on the losing side in that vote. But how would he vote today?
"I don't answer hypothetical questions," he told me. "We've been given an instruction of course to leave the European Union by the electorate and that is absolutely the right thing to do. We have to honour the request that's been made by the electorate"
I tried again, with an equal lack of success. "This is quite obviously a hypothetical question. It's important that we act on the instruction that we had fromt he referendum to leave the European Union and that is part of the purpose of the meeting that we had to make sure that we get a Brexit deal that works for every part of the country."
Presumably Mr Cairns's reluctance to engage with hypothetical questions means opinion pollsters asking how he'd vote if there were a general election today would be wasting their time.
Jeremy Corbyn has said he would vote to remain, and repeated his insistence that he voted 'remain' last year too.