Another Cardiff Bay private flat block fails cladding test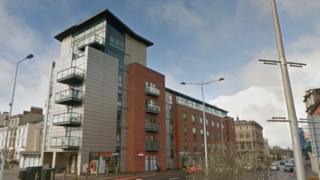 Another privately-owned housing block in Cardiff has been revealed to have cladding that has failed a fire safety test following the Grenfell fire.
Cardiff council said it was concerned about the results of tests on cladding at Quayside Apartments at Bute Place.
Aluminium composite material (ACM) - which has been subject to scrutiny since June's Grenfell Tower disaster - was used on part of the building.
Bellway, which built the block of 79 flats, said it would review its design.
The news comes after cladding at six apartment buildings at Cardiff's privately-owned Prospect Place site and social housing towers in Newport failed fire safety tests.
'Concerned'
The tests on ACM cladding, conducted by the Building Research Establishment (BRE), were introduced after the Grenfell tower block fire in London.
The company that manages the block, Warwick Estates, said the cladding affects one side of the building.
Cardiff council said it is "aware and concerned" that tests on the cladding system of the Quayside Apartments development in Cardiff Bay "identified the presence" of aluminium composite material (ACM), which has failed BRE tests.
"Responsibility for the safety of any buildings is clearly a matter for the development's owner," said a council spokeswoman.
"We are in contact with Welsh Government and have offered our support should it be required.
"As the local housing authority we will need to consider the appropriate approach to provide support and promote action to address any serious hazards identified that pose a risk to health and safety."
'Doubt'
The property was originally constructed by Bellway Homes, which also built the Prospect Place development.
A spokeswoman said it is now not the owner or responsible for the building, but said: "We have been supporting and providing any information requested from the managers responsible for the building and remain willing to actively support them as required.
"Quayside is a development we are proud of and whilst we obtained building control approval when the buildings were designed and constructed, we appreciate doubt is now cast over industry and regulator decisions at the time.
"We are undertaking our own detailed review of our original designs using specialist consultants as advised by government in order to assess whether the ACM cladding will need to be removed."
Management company Warwick Estates said "interim measures" are in place in accordance with guidance from the UK government following Grenfell.
"During this process we have been in constant contact with the residents, local fire officers, Welsh Government and local authorities," a spokesman said.