Welsh language heartlands 'need vibrant economy'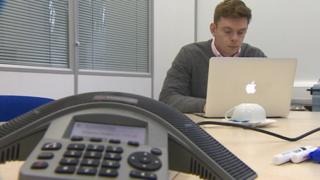 Young people from Welsh-speaking areas should be given the chance to stay there to build careers and family lives, the minister responsible for the Welsh language has said.
Alun Davies said the Welsh Government should intervene to curb emigration from Carmarthenshire, Ceredigion and Gwynedd to more urban areas.
Mr Davies said one way was to ensure a "vibrant economic base" in rural Wales.
Despite a fall in rural Welsh speakers, he said there was a rise in Cardiff.
The Welsh Government has a target of one million Welsh speakers by the year 2050 - about double the current number.
But census returns have shown a decline in the number of Welsh speakers in the language's traditional heartlands of north and west Wales.
Mr Davies told the BBC's Sunday Politics Wales programme it is the role of government to ensure people can live in those communities "through intervention".
"What we must do, as a government, is to ensure that people have the option and ability to live and have careers and homes and family life in those communities in Carmarthenshire, Ceredigion and Gwynedd," he added.
The minister said the government was thinking of ways to help young people to stay in rural areas.
"One of the things we're seeking to do is to ensure that we have a vibrant economic base in those areas, and that's a conversation we're having at the moment," he said.
Campaigners have called for more public sector jobs to be located in rural areas as a way of stemming the outward flow of young people.
Sunday Politics Wales is on BBC One Wales at 1100 BST on Sunday 15 October