No-deal Brexit requires a general election, Carwyn Jones says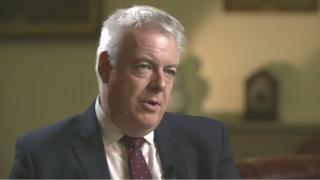 Carwyn Jones has argued there would have to be a general election in 2019 if Theresa May failed to secure a Brexit deal by that deadline.
Talks at securing a deal with the other 27 EU states on trade and on any remaining budget payments have stalled.
Some MPs have backed a "no deal" Brexit while others warn of economic chaos.
The first minister told S4C's O'r Senedd programme the UK government had an unrealistic view of Britain's influence in the world.
Mr Jones said: "If nothing happens and there is no agreement then it will be a hard Brexit - but that would be a total failure by the Westminster government.
"There would have to be an early general election, so that people could express a view on the fact that they had failed.
"But that's the problem, there's no-one in London with the authority to push things through."
Mrs May called a general election in June, less than two years since the previous poll, with the aim of strengthening her hand in Brexit negotiations.
However, the Conservatives lost their majority in the House of Commons prompting Tory party conflict over her future as prime minister.
Mr Jones described recent comments from Foreign Secretary Boris Johnson that Brexit was a chance to "let the British lion roar" as "nonsense".
"We have to be realistic here, the world isn't going to turn around and say 'we're going to help you out, because you're Britain'," he said.
"That's not how the world is anymore.
"Britain is small. Britain is smaller than Vietnam, half the size of Japan - we have to be realistic.
"It's vitally important that Brexit is driven by people who are sensible, who are pragmatic and not people who are nationalists.
"The biggest nationalists are in Westminster and Whitehall, and not anywhere else in the United Kingdom."