Powys children's service failings raised two years ago, MP says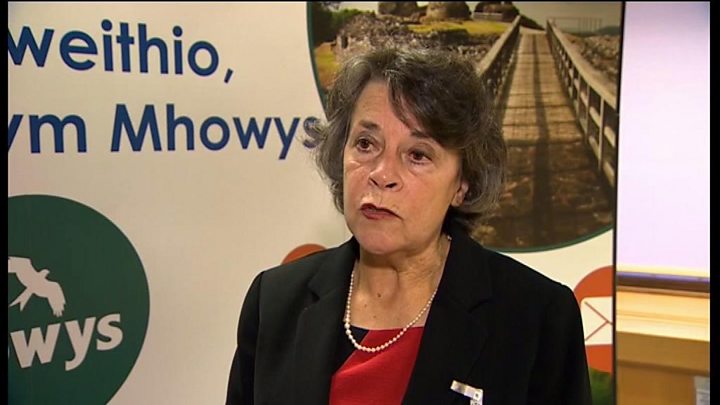 An MP has said he raised concerns about Powys council's children's services about two years ago as an action plan is discussed.
A report by Care and Social Services Inspectorate Wales (CSSIW) said problems had put children at risk.
Council leader Rosemarie Harris said she accepted its recommendations but had been told everything was "fine".
Montgomeryshire MP Glyn Davies said: "We have seen only the first chapter of this scandal."
The CSSIW report, published on Tuesday, found evidence of missed opportunities to safeguard children and concluded a "lack of assessment, intervention and support, together with poor follow up and oversight, has and is placing children at considerable risk".
The council has apologised and has been given 90 days to improve or face its social services being taken over by the Welsh Government.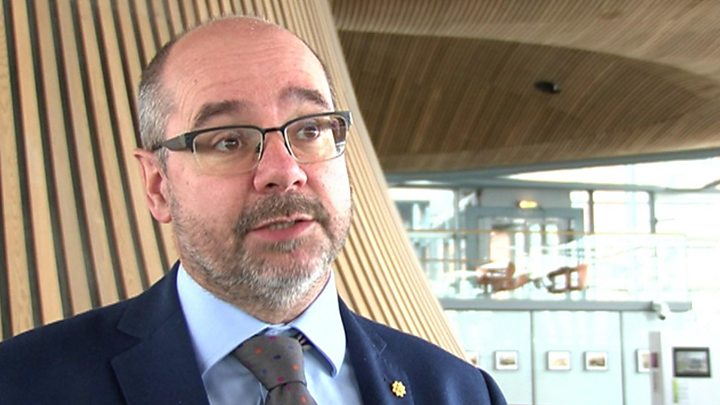 Ms Harris, who took over as leader after local elections in May, told a full council meeting in Llandrindod Wells on Thursday that the new cabinet had not been made aware of any issues with children's services.
She said performance indicators were "all green", "showed no problem at all" and that "we were told everything was working fine".
The leader also confirmed an improvement board had already held its first meeting, overseen by former Swansea council chief executive Jack Straw.
"I'm very sorry this has happened, and so early in the life of a new cabinet," Ms Harris said.
However, writing on his blog, Mr Davies said a constituent had raised concerns about the safety of a child about two years ago, adding that when he contacted the council he found "an almost total lack of recognition of the seriousness of the case".
He said the case caused him "real worry and sleeplessness".
"I felt the safety of a very young child was at serious risk," Mr Davies wrote.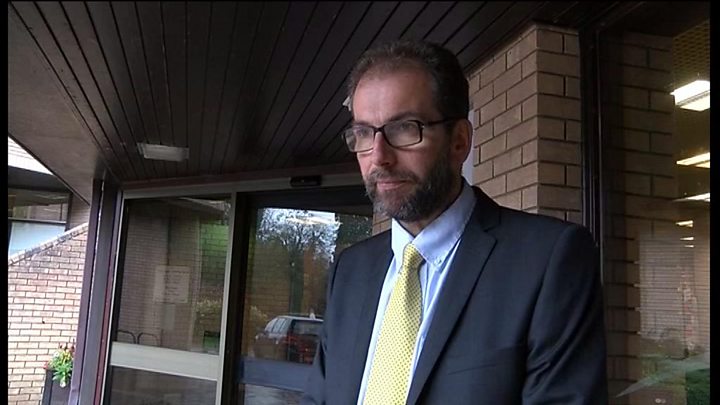 The MP said he had "escalated my contact with the Council to the highest level I reasonably could".
"I knew about it, was not prepared to be complicit, and was not prepared to let it go," he said.
Chief executive Jeremy Patterson told the council meeting he had raised concerns with former leader Barry Thomas, the deputies and the former cabinet member for children's services several times in October and November last year.
Mr Patterson said he did not get "clarity" from the former leader which he said could have resulted in the issues being addressed sooner.
Liberal Democrat councillor James Gibson-Watt, leader of the opposition on the council, said Mr Patterson should "step aside, both from the internal investigation and from direct management of the improvement plan, to allow the interim director of social services and interim head of service to get on with the job".
"He's been too close to this and there are a lot of questions members want answered," Mr Gibson-Watt said.
Social Services Minister Rebecca Evans has warned she will not hesitate to intervene if required.
Given 20 days to draw up a plan of action, Powys has published draft proposals which promise to listen to children, young people and their families and to prioritise making permanent appointments to key posts.
Ms Harris has put the cost of the improvements needed at around £4m.
Rachel Powell, the cabinet member now responsible for children's services, told councillors on Thursday: "We are absolutely committed to safeguarding children."
Councillors were also told that a review into adult social services may happen sooner than planned because of the concerns about children's social services.
It emerged on Wednesday that Welsh ministers and the inspectors had learned from the media that the council had spoken to Dyfed-Powys Police about potential manipulation of children's services performance data.
However, Mr Patterson told Thursday's meeting: "The police will not be involved at this stage. This is not a police matter."