Leanne Wood insists she will lead Plaid Cymru at 2021 election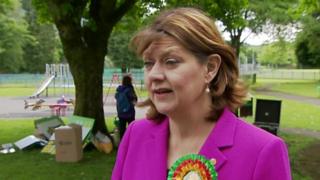 Leanne Wood has insisted she will be Plaid Cymru's leader at the next assembly election, and that she has the backing of the membership.
Ms Wood said fellow Plaid AM Rhun ap Iorwerth "understood" there was no vacancy for the position.
In August, the Ynys Mon AM said he would consider standing for the party's leadership if she were to step down.
On the eve of the party's conference, Ms Wood said she will be Plaid's candidate for first minister in 2021.
She told BBC Wales: "Of course he [Rhun ap Iorwerth] could be leader and so could others.
"And I'm really proud of the fact that I lead a party with incredible talent, that we have a number of people who could perform the role of the leader of this party.
"But Rhun also understands that there's no vacancy for the position of leader.
"I'm going to be the candidate for first minister in 2021 and I have the backing of the membership of the party to be that candidate."
Another AM, Simon Thomas, has previously said Plaid Cymru was not performing as well as it could be and needed to "raise its game" in the assembly.
Asked whether his remarks were a reflection on her leadership, Ms Wood said: "We can always raise our performance, all of us at any time in our lives. We can always perform better.
"So yes, we are always looking to up our game."
Despite losing 14 deposits and a fall in its vote share, Plaid Cymru won an extra parliamentary seat in June's general election.
Ms Wood said that given the circumstances of the election Plaid's performance was "remarkable".
The Rhondda AM said: "I don't recognise this narrative that tells us we had a terrible election. I just don't recognise ... that Plaid has had a set of disastrous elections.
"When you look at the evidence that isn't the case.
"We won an extra seat so I'm quite pleased with the result really. How Plaid Cymru performs in a snap election in 2017 is not the most important be-all and end-all for us."
'Practical work'
Meanwhile, the party's honorary president Lord Wigley has said it is Plaid Cymru's "duty" to do deals with the Conservative government in Westminster to "make a practical difference" to Wales' prospects.
Writing in the Daily Post newspaper, he said his party's MPs should take advantage of the Tories' lack of a majority in the Commons to do "practical work for voters".
Lord Wigley praised Plaid AMs in Cardiff Bay for giving support to the Welsh Labour Government "in return for progress on non-contentious issues".
Ms Wood has repeatedly ruled out working with the Conservatives and, earlier this year, Conwy council leader and ex-Plaid Cymru AM Gareth Jones left the party's group on the authority after senior Plaid figures refused to approve an administration which included Tory councillors.
Plaid Cymru's two-day autumn conference in Caernarfon begins on Friday.
Ahead of the gathering, Ms Wood has reallocated some of her assembly team's responsibilities.
The main changes see Dai Lloyd becoming a spokesman on social services and public health, while Steffan Lewis will add finance to his role handling external affairs, including Brexit.
Analysis by Aled ap Dafydd, BBC Wales political correspondent
I asked one assembly member if this was a make-or-break conference for Leanne Wood.
"I wouldn't put it quite as strongly as that but it is very important," came the answer.
This tells us that Leanne Wood's leadership is not under immediate threat but it further hints at disquiet amongst some AMs.
It feels like crunch time for all concerned. Those offering anonymous quotes and briefing against the leader will have to decide if they are willing to come out of the shadows or fully back her for another four years.
These are the conflicting views - some say Leanne Wood is a popular personality and, given Plaid has gained more councillors and a new MP recently, who could do a better job?
Others want to see less darkness and more light, a positive message rather than criticisms of the UK government. They also say that if you scratch under the surface, the general election result was not "remarkable", as has been claimed.
Leanne Wood has struck first. There is no clearer sign of being up for that battle than by addressing a possible successor by name, insisting there is no vacancy and looking ahead to 2021.