Welsh health secretary 'open to social care tax'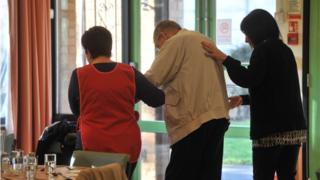 A social care levy could be funded via the Welsh Government's new tax-varying powers, with Wales' health secretary saying he is "open to the idea".
Vaughan Gething said the current system "isn't going to offer the quality and dignity of care that all of us want" as more live into old age.
The levy is one of four possible new taxes outlined by the Welsh Government.
Some people aged 65 and over receive help towards their care costs but others pay the full amount.
One of the four ideas is to be proposed to the UK government and Parliament, who would have to give final approval.
Mr Gething told the BBC's Sunday Politics Wales programme he was "generally open to the idea" of the Welsh Government using powers available to it "to fund social care in Wales".
He said that "the time to do this gets more urgent every year".
"As we have more people retiring, more people living longer, so we should have a debate about how to use our powers," the health secretary said.
The latest research suggests that by 2025 there could be nearly three million people over the age of 65 needing care in England and Wales - a 25% increase since 2015.
The Health Foundation last year estimated pressures on social care in Wales would rise by about 4.1% a year over the next 15 years due to population changes, the nature of complex and chronic conditions and rising costs.
Social care covers everything from help in an individual's home for tasks such as washing and dressing, to round-the-clock help in a care home.
Mr Gething said that all political parties, as well as members of the public, needed to engage in a debate about how to fund social care in the future, considering the additional burden it will place on the Welsh Government's budget.
"Almost all of us will live to old age. More of us are doing so. Our current system isn't going to offer the quality and dignity of care that all of us want," he said.