£24m needed in three years to cover new Welsh Government borrowing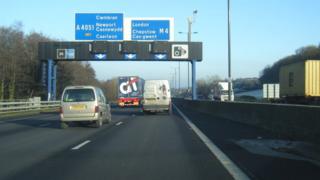 The Welsh Government will spend more than £24m over three years paying back money it plans to borrow for projects including a new stretch of motorway.
Officials say the money needed for the repayments has been set aside in budget plans.
Welsh ministers can borrow £125m in 2018 and £150m every year after that, using new powers, up to a £1bn total.
Budget documents cite the M4 relief road, currently at public inquiry stage, as a project that could benefit.
The Welsh Government is proposing to borrow £375m out of a possible £425m of capital funding in the next three years. It says the amount the government needs to borrow will be kept under review.
Repayments will come from the revenue budget that covers the day-to-day cost of running public services.
The government hopes to pay back the borrowed capital over 30 years, starting with a predicted £0.6m in 2018-19 and rising to £6.9m by 2020-21.
With interest, the cost in 2020-21 will be £13.7m.
The government can also borrow up to £500m for day-to-day spending if tax receipts fall short, but Welsh Labour ministers have no plans to take advantage of this.