Welsh language commissioner warns progress 'could slow down'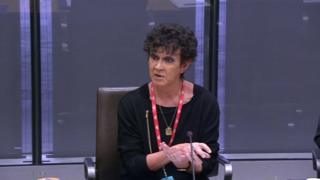 The Welsh language commissioner has rejected a call by the public services ombudsman to take over responsibility for handling complaints about Welsh language services.
Meri Huws told assembly members it went "hand in hand" with monitoring work.
Ombudsman Nick Bennett has told an inquiry the current system was "over-bureaucratic" and "wasteful".
Ms Huws, whose job faces abolition, said changes could "slow down" progress on the use of Welsh in public life.
In the summer, Welsh Language Minister Alun Davies unveiled plans to replace her role with a commission tasked with promoting the language, while ministers decided what standards should apply to different organisations.
The Ombudsman's comments came during consultation on the Welsh Government's proposals.
Ms Huws told the assembly's culture committee on Thursday that complaints provided her office with "strong evidence" of "systemic problems" and were "part of our role in facilitating the use of Welsh in Wales generally".
"Complaints go hand in hand with the monitoring work we do," she said.
"If complaints were taken away and placed with another body, we would lose part of that package of resources we have to generate change.
"So I don't see the value because we would lose a tool."
Asked about the prospect of her job being abolished, Ms Huws said there had been progress on Welsh language use, warning: "There's a danger any fundamental, structural change could slow down that process and create uncertainty."
She added: "Should politicians be the ones imposing standards on organisations?"