Harassment: Carwyn Jones calls for urgent meeting at assembly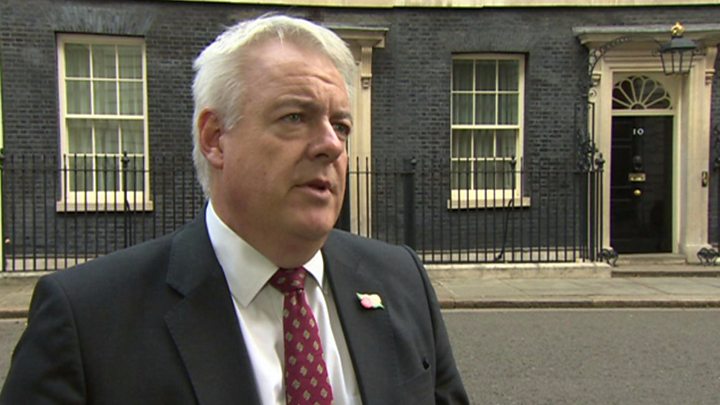 The first minister has called for an "urgent all-party meeting" at the assembly on sexual harassment following a string of allegations about MPs.
Carwyn Jones said people should "not assume" it was just about Westminster.
"Everyone deserves respect and protection," he said, raising the issue during talks with Theresa May.
Presiding officer Elin Jones said she would call a meeting but the assembly said "no formal accusations of sexual harassment" had been made against AMs.
The prime minister has already called for new grievance procedures for staff of MPs.
Former Welsh Secretary Stephen Crabb was reported by the Sunday Telegraph to have admitted sending "explicit" messages to a 19-year-old woman after a job interview at Westminster in 2013.
Allegations of a similar but separate incident led to his resignation from the cabinet in July 2016.
In a series of tweets, Mr Jones said he was asking Presiding Officer Elin Jones to "convene an urgent all party meeting."
"We have to be sure robust procedures are in place and that people feel safe and confident enough to call out wrongdoers," he said.
"We should not assume this is just about a Westminster culture, everyone deserves respect and protection."
Speaking to BBC Wales after the meeting, Mr Jones said: "Politics is always full of rumours but no-one's come to me directly with any issue, but that doesn't mean we just sit back and say, 'well, it's not a problem in Wales'.
"We can't say that - we have to make sure that we have in place a system that is at least as robust as what they're proposing in Westminster."
Ms Jones accepted the first minister's request, saying on Twitter: "Yes. I will convene a meeting of all parties to ensure our workplace is safe for all employees. No harassment or bullying is acceptable."
Plaid Cymru leader Leanne Wood said it was "a societal problem and it is linked to power".
"Institutionalised sexism is widespread and it is more often than not under-played and normalised," she added.
Welsh Conservative leader Andrew RT Davies said: "We urgently need to review our internal procedures to ensure that staff know where to go if they have concerns, and have confidence in the support available to them."
'Not complacent'
A spokesman for the assembly commission said the presiding officer "will be discussing with the political parties whether there is more to do to ensure everyone feels safe and respected in the workplace".
"There have been no formal accusations of sexual harassment made against an assembly member to the commission during the life of the assembly. We are not complacent however about the problems we have seen in society and the possibility that they are present in the assembly too," the spokesman said.
"The National Assembly for Wales has robust policies for dealing with inappropriate workplace behaviour.
"Assembly members and their support staff have to abide by codes of conduct; grievance procedures are written in to AM support staff work contracts, and there is full HR support available for both support staff and AMs."
In 2014, William Powell, then a Lib Dem AM for Mid and West Wales, was given a formal written warning by his party after a young female activist complained of his inappropriate behaviour.