No alternative but to sack Carl Sargeant says Carwyn Jones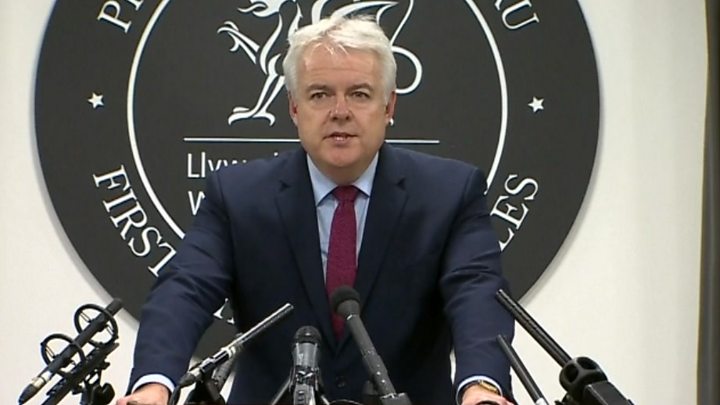 First Minister Carwyn Jones has said he had no alternative but to sack Carl Sargeant following allegations about his conduct.
Mr Sargeant's body was found on Tuesday, four days after he was dismissed as communities minister and suspended from the Welsh Labour party.
It is understood he took his own life but Mr Jones said he had acted "by the book" over the matter.
He said he would try to provide answers which Mr Sargeant's family deserved.
There has been criticism of the way Mr Sargeant was treated and his family has called for an independent inquiry.
Ex-Welsh Government minister Leighton Andrews, Welsh Conservative leader Andrew RT Davies and Plaid Cymru leader Leanne Wood also want an inquiry, which Mr Jones suggested could take place in future.
Claims about inappropriate behaviour were made to the first minister's office last week and following Friday's sacking, the Alyn and Deeside AM had vowed to clear his name even though he said he did not know the details of the allegations.
An inquest into Mr Sargeant's death will be opened and adjourned on Monday.
Mr Jones met Labour AMs on Thursday to explain how he handled the conduct allegations against Mr Sargeant.
Mr Jones then made a statement from Welsh Government headquarters in Cardiff on Thursday afternoon.
He called the situation "the darkest days" any of those at the assembly could remember, but said they were the "darkest of all for the family".
Despite speculation Mr Jones could have resigned on Thursday, the speech made no reference to his own political future.
Speaking publicly for the first time since Mr Sargeant's death, he said: "There are a lot of inaccuracies in the press and many of you have questions to ask about what happened last week."
He said precise details "will need to be properly disclosed" at the inquest.
"I and my team will of course be cooperating fully with any questions that are raised there," he said.
"The family deserve to have their questions answered and if that isn't possible through the inquest then I will endeavour to make that happen through other means.
"I welcome any scrutiny of my actions in the future and it is appropriate for that to be done independently."
Paying tribute to Mr Sargeant, he said: "Carl was a true force of nature - he drove through more legislation than any other minister. Not just through force of argument, but through force of personality."
Analysis by Vaughan Roderick, BBC Welsh Affairs editor
When Carwyn Jones finally appeared in front of the cameras today to deliver a statement on the death of Carl Sargeant and the events that led up to it, there was an expectation that the first minister would attempt to answer at least some of the many questions that have been raised since the former secretary's death.
Instead, while paying tribute to the man he described as a "true force of nature" he did little to answer the questions raised by Mr Sargeant's family and others.
A reference to a possible independent inquiry seemed equivocal at best.
The first minister's reference to "inaccuracies in the press" again raises more questions than answers.
If reports are inaccurate - why not correct them and why refuse to answer questions from journalists who are trying their best to report the situation accurately?
Carwyn Jones is human, of course, and I have no doubt that his grief and shock is genuine.
That may explain why a statement which would have been perfectly apt in the hours following Mr Sargeant's death seems insufficient and vague when delivered two and half days later.
Following the news conference, opponents rounded on Mr Jones.
Mr Davies said the episode has "significantly undermined public confidence in the first minister", while Ms Wood said the statement "was not adequate".
UKIP Wales said it would call for a motion of no confidence in the first minister.
And Mr Sargeant's lifelong friend and Flintshire council's deputy leader Bernie Attridge, called for Mr Jones to resign saying he "had not done the decent thing".
Mr Andrews said a number of people were expecting a "definite commitment to an independent inquiry" from Mr Jones' statement.
Earlier on Thursday, Mr Andrews alleged Mr Sargeant had been the target of bullying in the Welsh Government.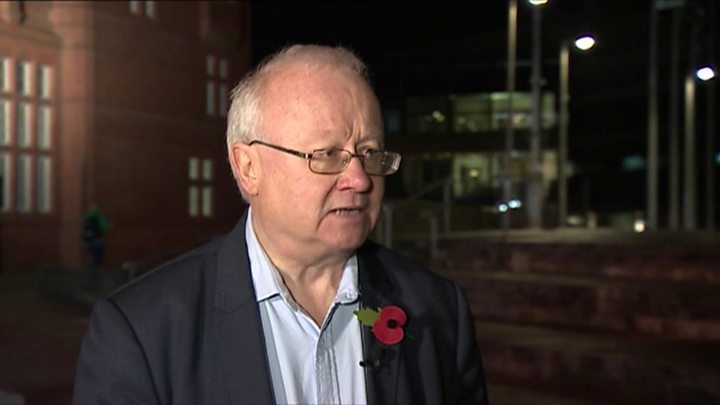 Former public services minister Mr Andrews - claimed there was "minor bullying" and "mind games" during his time in government - and said the atmosphere was "toxic" during the last assembly term.
"The undermining was of ministers, deputy ministers and special advisers," Mr Andrews said in a statement issued on Thursday.
He said Mr Sargeant "was unquestionably the target of some of this behaviour. The relentless drip-drip of disinformation - and worse - had a strain on his and others' mental health."
The ex-Rhondda AM said he had raised one particular issue with Mr Jones, of which he had direct evidence, but claimed due process was not followed.
The Welsh Government has declined to respond to Mr Andrews' claims.