Carl Sargeant: Timeline of events before and following his death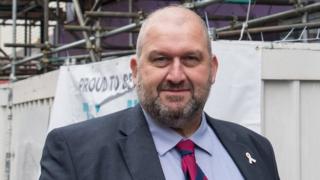 Sacked Welsh Government minister Carl Sargeant was found dead after being accused of inappropriate conduct towards women.
Here is a timeline of the events leading up to his death and what has unfolded since.
A chronology of key developments:
30 October 2017: Carwyn Jones calls for an "urgent all-party meeting" at the assembly on sexual harassment, following the scandal engulfing Westminster and Hollywood. Presiding Officer Elin Jones agrees.
2 November: Elin Jones orders a review into how complaints of sexual harassment are dealt with by the assembly.
3 November: Alyn and Deeside AM Carl Sargeant is sacked as the Welsh Government's secretary for communities and children and suspended from the Labour Party pending an inquiry into allegations about his conduct. Mr Sargeant, 49, calls for an "urgent" investigation to clear his name and a cabinet reshuffle takes place.
5 November: Some former AMs claim the sexual harassment of women "goes on all the time" at the assembly and ex-politicians raise concerns about "a lack of procedures" and of colleagues "turning a blind eye to appalling behaviour".
6 November: First Minister Carwyn Jones gives media interviews, saying Mr Sargeant is facing claims of a number of incidents involving women, which his office had passed to the Labour Party.
7 November: Mr Sargeant is found dead at his home in Connah's Quay, Flintshire. In a written statement his wife and two children say they are "devastated beyond words".
8 November: Mr Sargeant's family say he was deprived of "natural justice" and he was not informed of any of the detail of the allegations against him, despite requests and warnings regarding his mental welfare. They release correspondence sent between his solicitor and Labour which includes an email from his solicitor alleging the first minister prejudiced Labour's inquiry, and a letter that said he faced allegations about conduct amounting to "unwanted attention, inappropriate touching or groping". Leighton Andrews, a former key ally of the first minister, at the same time makes allegations of a bullying culture in the Welsh Government in the previous assembly term.
9 November: The first minister says he had no alternative but to sack Mr Sargeant following allegations about his conduct. In his first public comments since the former communities secretary died he says the assembly is facing its "darkest days" following his death.
10 November: The first minister orders an inquiry into how he handled Mr Sargeant's sacking. The deputy leader of Flintshire council Bernie Attridge says he will "fight to the bitter end for justice" for his friend.
12 November: A former adviser to the first minister, Steve Jones, makes further claims about bullying in the Welsh Government. He says the behaviour of some was "pure poison".
13 November: An inquest in Ruthin, Denbighshire, is told Mr Sargeant was found on the floor of the utility room by his wife Bernadette. A provisional cause of death is given as hanging.
14 November: AMs pay tribute to a "jovial but determined" Mr Sargeant. Plaid Cymru leader Leanne Wood says allegations of misconduct by Mr Sargeant should still be investigated.
15 November: In a written statement Mr Sargeant's son Jack says the family has been "overwhelmed" by support.
16 November: Welsh Conservative leader Andrew RT Davies calls for a "special inquiry" into allegations of bullying in the Welsh Government.
21 November: The assembly's business committee agrees that calls for an inquiry into bullying claims will be put to the vote in the Senedd chamber on 29 November.
23 November: First Minister Carwyn Jones refers himself to an independent inquiry that will examine whether he breached the ministerial code when he said in 2014 there had been no complaints about bullying in his government.
29 November: Carwyn Jones announces he will not be attending Carl Sargeant's funeral and says he hopes the family will be able to celebrate his life without distraction. Labour and independent AMs in the Welsh Government block a Conservative move to hold an assembly inquiry into the bullying allegations.
1 December: The funeral service for Carl Sargeant takes place in Connah's Quay, with Labour leader Jeremy Corbyn among the mourners.
4 December: The date for the Alyn and Deeside assembly by-election - triggered by Mr Sargeant death - is announced. The poll will be held on 6 February, the latest possible date.
9 December: Carl Sargeant's son, Jack, puts his name forward for the Labour nomination for the by-election.
15 December: The Welsh Government's most senior civil servant Shan Morgan announces the terms of reference for the inquiry into whether Carwyn Jones breached the ministerial code.
3 January: Alyn and Deeside Labour members choose Jack Sargeant as their candidate for the by-election from a shortlist of three.
24 January: QC Paul Bowen is appointed to lead the inquiry into Carwyn Jones's handling of the sacking of Carl Sargeant.
26 January: An inquiry finds there was no unauthorised leak of information about plans to sack Carl Sargeant from the cabinet, prompting the Tories to ask if there was any authorised leak.
1 February: Labour leader Jeremy Corbyn says Carwyn Jones is "getting on with his job as first minister" when asked why he has not visited Alyn and Deeside to support Labour's by-election campaign.
6 February: Jack Sargeant wins the Alyn and Deeside by-election, increasing Labour's majority to 6,545 while turnout falls to 29.1%.
13 February: Jack Sargeant gives his first speech to the Senedd, vowing to ensure the inquiries already under way will examine events in the run-up to his father's death.
15 February: A Labour AM was told of allegations against Carl Sargeant and his imminent sacking before he was dismissed as a minister, BBC Wales learns. Lee Waters - who had been sent the information in a text message - told AMs later he had regarded it as gossip.
1 March: In a BBC interview, Carwyn Jones bats away questions about when he might stand down as first minister but pledges to "get through the inquiries" launched since Carl Sargeant's death.
16 March: Dame Shan Morgan refuses to publish a redacted version of the report into whether news of Mr Sargeant's sacking had been leaked, "because of the implications for the handling of future investigations".
17 April: A Tory attempt to force the report's publication is met by a threat of legal action by Carwyn Jones but is subsequently defeated by Labour AMs in a Senedd vote. Later the same day the separate inquiry into whether he misled the assembly over claims of a bullying culture in Welsh Government concludes he did not breach the ministerial code.
20 April: Lawyers for Jack Sargeant complain of delays in starting the Bowen inquiry and claim the conduct of Carwyn Jones has caused the family "considerable distress".
21 April: Carwyn Jones announces his intention to stand down as first minister in the autumn, telling the Welsh Labour conference he had been through the "darkest of times".
14 June: The terms of reference for the Bowen inquiry are confirmed. It will investigate Carwyn Jones's actions both before and after the Alyn and Deeside AM was dismissed.
15 June: The Welsh Government clarifies advice to staff giving evidence to the inquiry, after an email emerges asking them to tell civil servants if they had any evidence to give. The advice is amended to make it clearer staff can contact the inquiry directly.
Meanwhile, a QC representing the first minister tells a pre-inquest hearing an increasing number of women have come forward or been identified as saying they were subjected to inappropriate behaviour by Carl Sargeant. The solicitor for Mr Sargeant's family says the allegations are "unproven" and that Mr Sargeant was not there to defend himself.
18 June: Carl Sargeant's family threatens to make a High Court challenge to the process the Bowen inquiry will follow. The family's solicitor, Neil Hudgell, says it has been refused legal representation at the inquiry, so will be unable to have a barrister cross-examine witnesses.
21 August: Carl Sargeant's widow, Bernie, says she fears the investigation into his sacking will be a "cover-up" and that she has been forced to seek a High Court challenge to the inquiry's legality. Carwyn Jones's spokesman says the action "cannot be justified".
5 September: The Bowen inquiry is suspended to await the result of the legal challenge. The delays mean the inquiry will not start hearing evidence until after Carwyn Jones is expected to step down as first minster in December, and it is not clear when it will begin.
13 September: In a statement, Carwyn Jones says his government will be "strongly contesting" all the grounds on which the legal review is being brought.
13 November: The High Court gives Carl Sargeant's family permission to challenge the format of the investigation into his sacking. A hearing is expected to take place in Cardiff in January.
26 November: The inquest into Carl Sargeant's death opens in Ruthin.