Labour AM says Sargeant death being used to settle scores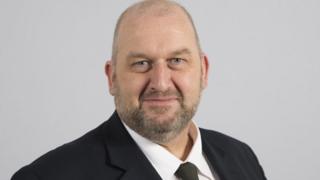 It is reprehensible how some have used Carl Sargeant's death to settle scores from their time in Welsh Government, Labour AM Lee Waters said.
AMs on Wednesday blocked Tory moves for an assembly inquiry into bullying allegations against the government.
Mr Waters called the nature of the Senedd debate on the vote "unseemly" two days before Mr Sargeant's funeral.
Leighton Andrews, who made some of the claims, said "no-one has been using Carl's death to settle scores".
"I suspect I have had rather more contact with Carl's family than has [Lee Waters]," the ex-public services minister said in a tweet.
Mr Sargeant's funeral is taking place in Connah's Quay on Friday. He died earlier this month, days after he was sacked from the Welsh Government amid allegations about his conduct.
On Wednesday night First Minister Carwyn Jones announced he would not be attending the service and that he hoped Mr Sargeant's family would be able to celebrate his life without distraction.
Government AMs blocked a Conservative motion - backed by UKIP and Plaid Cymru - that would have triggered an inquiry by the committee for the scrutiny of the first minister into the bullying allegations.
Tory AM Paul Davies said a proposed independent inquiry into the allegations, being commissioned by Mr Jones, was set "behind closed doors".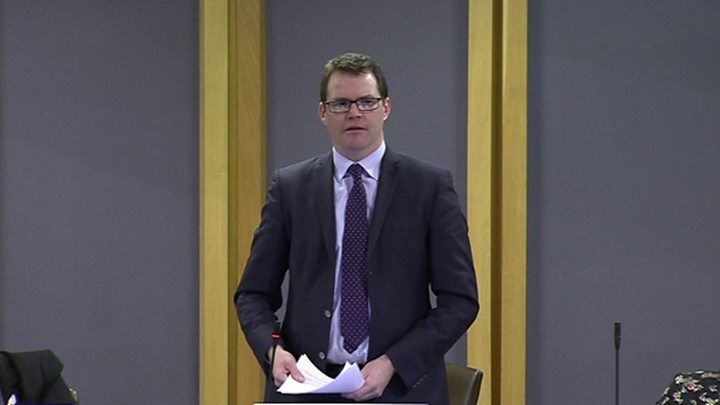 During a heated debate on the motion, Mr Waters said: "There's much I would like to say, but I think it would be wise not to say it at this time.
"In two days time we're going to be burying our colleague and friend, and I think there's something unseemly to be having this nature of debate while that still hasn't happened.
"I find it reprehensible the way that people have used this tragedy to settle scores from their time in government."
The Llanelli AM said the first minister "to his credit" has set up two independent processes - referring to both the independent advisor asked to examine the bullying allegations and a separate inquiry into how allegations against Mr Sargeant were handled.
He said they should be given time to draw their conclusions - and said he was "disgusted" that Welsh Conservative leader Andrew RT Davies had accused Labour AM Lynne Neagle of having "taken the shilling".
Mr Davies clarified after the debate that he had directed the remark at independent AM Lord Elis-Thomas, who has recently joined the Labour-led Welsh Government, and not Ms Neagle.
Conservative AM Paul Davies said Labour's attempt to block the Tory motion by deleting it with a text noting the independent inquiry "simply showed the first minister's attempt to set his own scrutiny by self-appointing an independent advisor to investigate his actions in the last two weeks".
Mr Davies said "an inquiry set on the government's own terms behind closed doors does not set" a natural justice "agenda".
Leanne Wood, Plaid Cymru leader, asked: "Do we shine a public, open, honest light on these allegations or do we allow the first minister to decide the process by which he is answerable?"
"Natural justice should provide only one answer to that question," she told AMs.
'Draw a line'
UKIP leader Neil Hamilton argued during the debate that while the government may win Wednesday's vote "it certainly won't win the vote in the court of public opinion outside".
Responding for the Welsh Government, leader of the house Julie James said: "We need to be able to draw a line under this."
"We cannot be in a position where the validity of any investigation is under question and continued calls for additional inquiries [are] overtaking proceedings of this assembly," she said.
"Clearly it is essential that scrutiny must be effective and independent and seen to be above party politics.
"This is one of the reasons that we do not feel that the committee of scrutiny of the first minister is the appropriate body to take forward alleged breaches of the ministerial code."
The Tory motion was lost by 29 votes against, versus 27 for.
Following the vote, Mr Hamilton said it was "morally indefensible that Carwyn Jones voted to save his own skin".
He also criticised former UKIP Wales leader Nathan Gill - now an independent AM - for missing the vote by going to Brussels in his capacity as an MEP.
"His refusal to attend this crucial Senedd vote is a shameful betrayal of North Wales' voters trust," Mr Hamilton said.
In response, Mr Gill said he had a pre-arranged appointment made three months ago, and had fulfilled his obligations by trying to find a Labour AM to "pair" with so that both sides would have a member absent.
"I spoke to the relevant authorities about being paired, but with Labour AMs on a three-line whip [to attend and vote against the Tory motion] there was nobody to pair with", he told BBC Wales.