Carl Sargeant death: Alyn and Deeside by-election set for February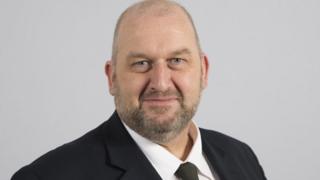 A date for the by-election to fill the seat of former Welsh Labour minister Carl Sargeant has been announced.
The Alyn and Deeside AM was found dead four days after being sacked from the cabinet in November amid allegations of inappropriate behaviour towards women.
The poll will be held on 6 February - a Tuesday rather than a Thursday.
The assembly said Presiding Officer Elin Jones had taken account of the "sensitivities of the circumstances" to set the latest possible date.
The presiding officer has also taken into account "the practical arrangements" and the "impact of the Christmas period on arrangements", a statement from the Welsh Assembly said.
"The 6th of February is statutorily the last possible day on which the by-election can take place," it added.
"Although elections and by-elections, by convention, have taken place on Thursdays, there is no statutory compulsion to do so.
"In these circumstances, the Llywydd [presiding officer] believes that this decision provides all political parties and candidates with the maximum opportunity to prepare and also enables the local authority to make the necessary arrangements in a timely way."
It will be the first assembly by-election since August 2013, when Rhun ap Iorwerth retained the Ynys Mon seat for Plaid Cymru after Ieuan Wyn Jones stepped down to run the Menai Science Park.