North Wales child abuse review now names Gordon Anglesea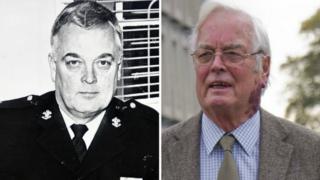 A former senior police officer jailed for indecently assaulting boys has been named in a revised version of a judge's review of an inquiry into abuse of children in north Wales.
Gordon Anglesea's name had originally been redacted from Lady Justice Macur's report published in March 2016.
Welsh Secretary Alun Cairns said his conviction and death meant there was "no reason" to keep his name secret.
Exceptions have been made to prevent identification of victims or witnesses.
Lady Justice Macur had reviewed the £13m Waterhouse inquiry into child abuse amid concerns that although it found "appalling mistreatment" of children over 20 years its remit was too limited.
Her review found no evidence of alleged historical abuse by prominent figures.
Anglesea, a former North Wales Police superintendent from Old Colwyn, was convicted in October 2016 of indecently assaulting two boys.
He was sentenced to 12 years in prison, dying in jail in December 2016 at the age of 79.
Welsh Secretary Alun Cairns told MPs on Tuesday in a written statement: "In light of Gordon Anglesea's death there is no reason for his name to continue to be redacted, except where there is any risk that victims, witnesses or other individuals might be identified.
"I have today therefore laid a revised version of the Macur Review report with references to Gordon Anglesea reinstated except where an ongoing risk has been identified.
"The other redactions in the report remain."
Prosecution dismissed
The newly-published, partially-unredacted version of the report shows that North Wales Police had wanted to prosecute Anglesea some years previously, but the Crown Prosecution Service decided against it.
Lady Justice Macur said the decision not to prosecute may have deterred witnesses from coming forward to give evidence to the Waterhouse inquiry.
The report also reveals that one witness believed pictures depicting Anglesea involved in illegal sexual activity had been destroyed.
Lady Justice Macur also investigated his links to freemasonry and whether that had led to a cover-up.
However, she concluded that "considerable efforts were made in pursuit of evidence against Gordon Anglesea" by the Waterhouse inquiry and that she found the investigations into freemasonry were in accordance with the weight of evidence before the tribunal.
A UK government spokesman said: "The secretary of state for Wales is committed to ensuring that there is as much transparency as possible around the incidents that took place in north Wales since the 1970s.
"The redactions in the initial Macur report were made in line with advice received from Lady Justice Macur to protect victims, witnesses and ongoing criminal proceedings.
"The amended report published today removes redactions relating to Gordon Anglesea, except where there is a risk that victims, witnesses or other individuals might be identified."