Brexit: Regrettable DUP felt out of the loop, Tory MP says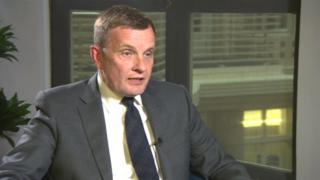 A former Brexit minister said it was "regrettable" the Democratic Unionist Party felt out of "the loop" over the UK government's proposed Brexit deal.
Talks in Brussels stalled on Monday because the DUP, which supports the Conservatives, rejected a proposal about the future of the Irish border.
Clwyd West MP David Jones said there should have been "intense discussions" with the DUP beforehand.
DUP leader Arlene Foster said she only saw the text on Monday morning.
The party scuppered a deal between the UK and the EU on the first phase of the Brexit negotiations that would have seen "regulatory alignment" between Northern Ireland and the Republic of Ireland - intended to avoid the need for border checks after Brexit.
Mrs Foster said her party could not sign up to anything that would allow a border to develop in the Irish Sea.
Mr Jones, who served as a Brexit minister for just under a year and led the Vote Leave EU referendum campaign in Wales, told BBC Radio Wales that discussions with the DUP over the next few days will be "crucial for the advance of the negotiations".
Mr Jones told Good Morning Wales: "The DUP hold the balance of power in the Commons. Their position is therefore crucial. I would have been surprised if Downing Street had had no discussions with them.
"But quite clearly the DUP take the view that they weren't kept entirely in the loop. I think that was something that was very regrettable."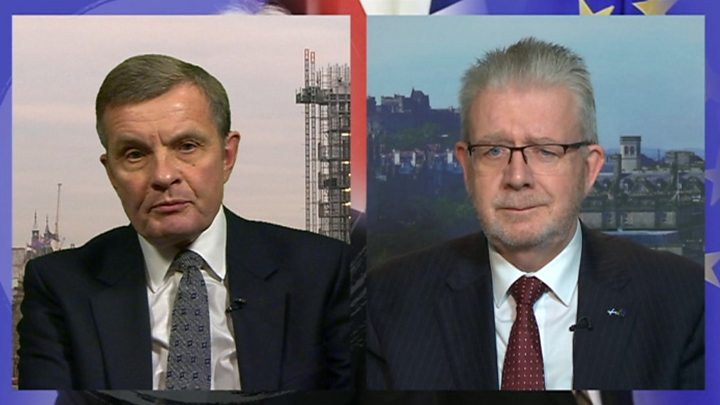 Mr Jones said he "couldn't agree more" that "there should have been intense discussions with the DUP before the prime minister and her team stepped on the plane to Brussels".
He said he agreed with the UK government that it was possible to have a "frictionless border using modern technology... which would ensure that to all intents and purposes there was an invisible border between Northern Ireland and the Republic".
The Clwyd West MP said it was "in the gift of the Republic of Ireland to respond positively to this", saying goodwill on both sides was needed.
Irish Prime Minister Leo Varadkar said he was "surprised and disappointed" that a deal on Brexit was not reached on Monday - saying the UK had agreed a text that met Irish concerns.
Brexit Secretary David Davis has said that the suggestion the UK may leave the European Union "to leave one part of the United Kingdom behind and still inside the single market and the customs union - that is emphatically not something that the UK government is considering".
"No UK government would allow such a thing - let alone a Conservative and Unionist government," he said.